Main content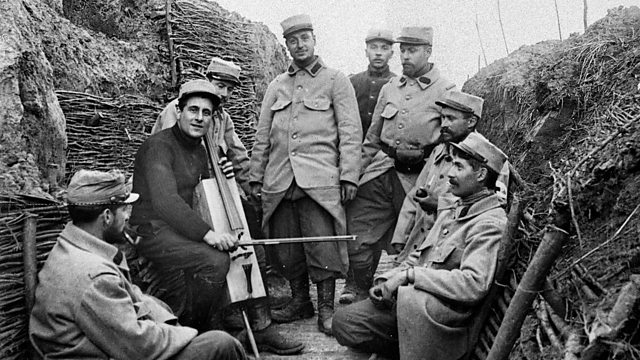 John Butt, Cecilia Bernardini, David Owen Norris WWI Musical Stories
With live music from violinist Cecilia Bernardini, tenor Nicky Spence and pianist Simon Lepper. Plus, the first of David Owen Norris's series of musical stories from World War I.
Sean Rafferty's guests include violinist Cecilia Bernardini and director of the Dunedin Consort John Butt. Cecilia will be performing live in the studio ahead of the Consort's evening of Bach at London's Wigmore Hall this week.
Plus, as Radio 3's two-week season Music in the Great War gets under way, we welcome in a host of guests including writer, broadcaster and pianist David Owen Norris as he presents the first in a series of personal musical stories from the war.
Tenor Nicky Spence and pianist Simon Lepper perform a selection of songs from their upcoming show 'The Pity of War' at Tardebigge Church in Worcestershire, while the actor Alex Wyndham talks about the BBC Concert Orchestra's thrilling concert 'A Captive Audience', which you can hear live on BBC Radio 3's Live in Concert on Thursday 26 June.
And we hear from Dr. Rhian Davis of the Gregynog Festival in Wales about the festival's focus on the music of Belgian refugees who settled in Wales in 1914.
Main headlines are at 5pm and 6pm
In.Tune@bbc.co.uk
@BBCInTune.