Main content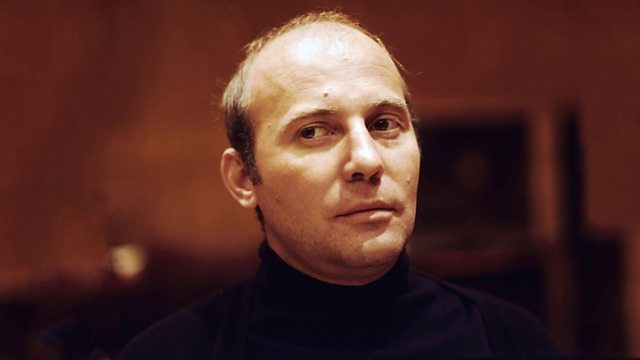 Henze's Boulevard Solitude
From Wales Millennium Centre, Henze's opera Boulevard Solitude, a take on the story of Manon Lescaut. With Jason Bridges as Armand des Grieux and Sarah Tynan as Manon Lescaut.
A rare opportunity to hear one of the masterpieces of the post-war operatic canon, Composed shortly after the Second World War, Boulevard Solitude is Henze's take on the story of Manon Lescaut, which had already attracted many composers before him. No genteel romance for Henze, though: his telling of the story takes us into a seedy world of desperate lowlife characters - rootless, loveless, egocentric, and desperate for drugs, money, and sex.
The story unfolds without a break in a series of seven scenes, the first of which takes place in a railway station bar, where Armand sees Manon and is instantly lovestruck. In the scenes that follow we witness the futility of his good intentions in the face of greed and desperation, and chart the course of their affair as it descends into a catastrophe largely brought about by Manon's bullying brother Lescaut.
This production was part of Welsh National Opera's Fallen Women season, and in his introduction Christopher Cook speaks to WNO's Artistic Director David Pountney, and the principal protagonists, about the opera and their roles within it.
Armand des Grieux ..... Jason Bridges (tenor)
Manon Lescaut ..... Sarah Tynan (soprano)
Lescaut ..... Benjamin Bevan (baritone)
Monsieur Lilaque ..... Adrian Thompson (tenor)
Francis ..... Alastair Moore (bass)
Young Lilaque ..... Laurence Cole (bass)
Mr Man ..... Tomasz Wygoda
Chorus of Welsh National Opera
Orchestra of Welsh National Opera
Lothar Koenigs (conductor).
Synopsis
Armand falls in love with Manon but she repeatedly slips from his grasp and ultimately eludes him altogether.
Scene One
Armand des Grieux and his friend Francis are at a train station. Manon is being taken to a finishing school by her brother, Lescaut. She and Armand strike up
a conversation and are immediately attracted to one another. Manon decides to go away with Armand. Lescaut watches them leave.
Scene Two
Armand and Manon are happy together but have no money. Lescaut tries to persuade Manon to take a rich lover – he has someone in mind who would support her and be a source of income for himself as well. He tells her that she must be hard-hearted to succeed in life and that she must choose between comfort and poverty.
Scene Three
Manon is now the spoilt mistress of Monsieur Lilaque. She writes to Armand, telling him that she misses him. Lescaut is furious that she is thinking of her old lover rather than her current protector. Lescaut's various deals are not going well and he attempts to steal some money. He is discovered by Lilaque, who throws them both out.
Scene Four
Armand, Francis and other students are studying erotic Latin poetry by Catullus. Armand is distracted and unable to forget Manon. He refuses to believe that she can be guilty when Francis tells him of the theft of the money. Manon and Armand are temporarily reunited.
Scene Five
Manon has left Armand again and he is taking drugs to help him forget her. Lescaut is looking for his sister – he has a new client for her; Lilaque's son. Manon arrives and attempts to calm the frantic Armand but fails. She leaves with young Lilaque but sends a message, asking Armand to meet her later.
Scene Six
Manon and Armand are together in young Lilaque's apartment. Lescaut comes to warn Armand to get out before he is discovered. There is a painting on the wall which Lescaut decides to steal but he is interrupted by the arrival of Monsieur Lilaque. Manon tries to distract him but he finds Armand and Lescaut in their hiding place and calls the police. Lescaut pushes a gun into
Manon's hand and she fires. Young Lilaque returns to find Manon with the gun and the dead body of his father.
Scene Seven
Manon is being taken to prison. Armand hopes to catch a final glimpse of her but she is taken away before they have a chance to speak.