Main content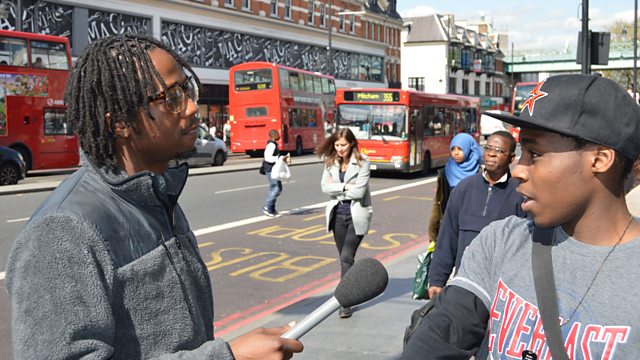 Sound of the Police
Journalist, musician and filmmaker Boya Dee explores the state of relations between young people and the police. Are they improving or has a generation lost confidence?
Living in a time of heightened security concerns, the role of the police has arguably never been more important. But a recent YouGov survey of over 1,000 young people between the ages of 16 to 25 revealed some shocking statistics. Over half of those surveyed in London rated the relationship between the young and the police as poor. And, though not quite as high, 46% of people in Birmingham and 47% in Manchester agreed.
Is it just bravado that makes people say they don't trust the police? (After all, most people, if they were in trouble, wouldn't think twice about calling 999).
In this 1Xtra Story, journalist, musician and filmmaker Boya Dee explores why, for some, confidence in the police has hit rock bottom. Are policing approaches such as Stop and Search to blame and do the police have a plan to gain back people's trust?
Boya heads back to school to find out first-hand how the pupils of Norwood School view the police. He then hits the beat in Lewisham with a local PC, as well as discovering how having a kick-about in Putney with the help of Chelsea FC could be the answer to the police's problems. Boya also hears how some of the youth of Nottingham are trying to change the police force from within; and chats to the police get their take on the situation.
Boya Dee wants to know if the relationship between young people and the police is improving, or is it broken to such an extent that the police may have lost the confidence of a whole generation forever?
Last on
Music Played
Kranium

Nobody Has To Know

KRS-One

Sound Of Da Police

Hip Hop Don't Stop.
Virgin.

M.I.A.

Double Bubble Trouble

Roots Manuva

Witness (1 Hope)

Witness (One Hope).
Big Dada.

DJ Snake

Turn Down For What (feat. Lil Jon)

The Streets

Let's Push Things Forward

Let's Push Things Forward.
Locked On.

Tinie Tempah

5 Minutes

Parlophone/Disturbing London.
Broadcast