Main content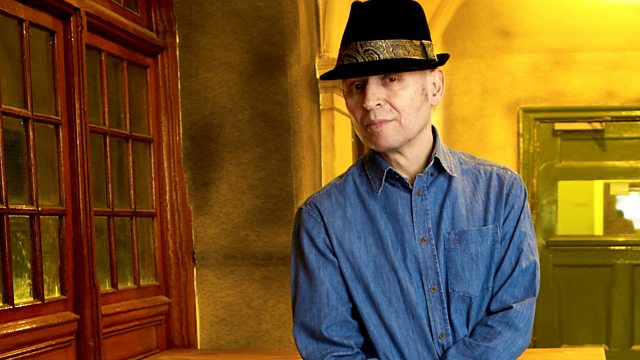 Thursday - Max Reinhardt
Max Reinhardt's selection includes the Meridian Brothers, part of Ligeti's Hommage a Brahms Trio, Inge Thomson, Keayrt Dooyrt and the Bugge Wesseltoft and Henrik Schwarz duo.
La Tristeza - Invitando A Salvadora from Colombia's Meridian Brothers, the Lamento: Adagio movement from Ligeti's Hommage A Brahms Trio For Violin, Horn And Piano, two Island artists, Inge Thomson and Keayrt Dooyrt plusan exploration from the Bugge Wesseltoft & Henrik Schwarz Duo . Integrated and marinated by Max Reinhardt.
Last on
Music Played
Peter Broderick

Floating / Sinking

Performer: Peter Broderick.

Float 2013.
Erased Tapes Records.
2.

Meridian Brothers

La tristeza - invitando a Salvadora

Performer: Meridian Brothers.

Salvadora Robot.
Soundway Records.
7.

Bugge Wesseltoft / Henrik Schwarz

First Track (Live From Berlin)

Performer: Bugge Wesseltoft. Performer: Henrik Schwarz.

Duo.
Jazzland Records.
1.

Traditional English

The Oxford Girl

Performer: Shirley Collins.

Love, Death & The Lady.
Fledg'ling Records.
3.

Shirley & Dolly Collins

A Foresaking - Our Captain Cried

Performer: Shirley & Dolly Collins.

A Breath Of Fresh Air - A Harvest Records Anthology / 1969-1974.
Harvest.
7.

György Ligeti

Trio for horn, violin & piano ("Hommage à Brahms"): Lamento. Adagio (4th mvt)

Ensemble: Danish Horn Trio.

Brahms, Ligeti: Trios for Violin, Horn & Piano.
Chandos.
8.

Pierre Henry / Pierre Schaeffer

Classique: Bidule Et Un

Performer: Pierre Henry. Performer: Pierre Schaeffer.

Funny Old Shit: A Trunk Records Sampler Volume 1.
Trunk Records.
13.

Traditional Manx

Keayrt Dooyrt My Ghraih Veen Rhym

Performer: Ruth Keggin.

Sheear.
Purt Sheearan Records.
2.

King Ayisoba

Sunsua

Performer: King Ayisoba.

Wicked Leaders.
Makkum Records.
3.

Lau

Save the Bees (Live)

Performer: Lau.

Save the Bees: Recording by Max Reinhardt of rehearsal at The Sage, Gateshead.

Meredith Monk

Click Song # 2 from Light Songs (1988)

Performer: Meredith Monk.

Volcano Songs.
ECM New Series.
14.

Nickel Creek

Rest Of My Life

Performer: Nickel Creek.

A Dotted Line.
Nonesuch.
1.

João Pernambuco

Sonho De Magia

Performer: João Pernambuco.

Brésil Choro Samba Frevo 1914-1945.
Frémeaux & Associés.
15.

Jimmy Reed

Odds And Ends

Performer: Jimmy Reed. Composer: Bob Dylan.

The UK Sue Label Story Volume 4.
Kent Soul.
7.

Inge Thomson

Girl With the Swan's Head

Performer: Inge Thomson.

Shipwrecks & Static.
Navigator Records.
9.

Thug Entrancer

Death After Life II

Performer: Thug Entrancer.

Death After Life.
Software Records.
2.

U Yee Nwe

Than Yoe (Simple Melody)

Performer: U Yee Nwe.

Sandaya: The Spellbinding Piano of Burma.
Shanachie.
3.

Judith Weir

Arise, Arise! You Slumbering Sleepers

Ensemble: The Schubert Ensemble.
Broadcast