Main content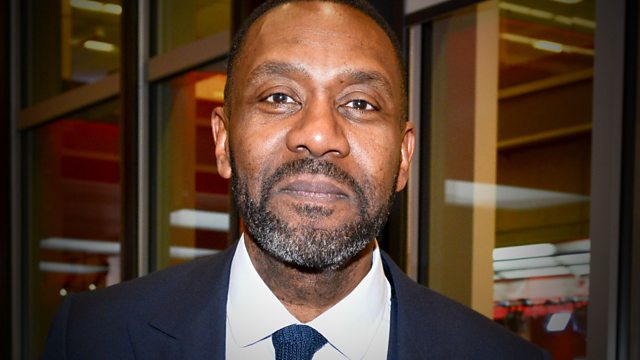 Dear Mr Eliot: When Groucho Met Tom
Lenny Henry stars in a musical fantasy woven round the real-life meeting of TS Eliot and Groucho Marx in June 1964 after a three-year correspondence. With music by Michael Jakszyk.
Lenny Henry stars in a musical fantasy written by Jakko M Jakszyk and Lenny Henry, woven round the real-life 1964 dinner encounter between the greatest poet in the English language of the twentieth century, TS Eliot and the legendary star of A Night at the Opera, Duck Soup and Horse Feathers, Groucho Marx.
Almost exactly fifty years after the meeting in early June 1964, Radio 3's adventurous feature series Between the Ears brings the moment to life with the aid of Groucho Marx and TS Eliot's exchange of letters. They'd been pen-pals since 1961, had swapped signed photographs - Eliot particular that Groucho send him a cigar-toting portrait - and compared lifestories. Eliot hung his Groucho picture between his portraits of WB Yeats and French poet Paul Valery - a place of great honour, according to Craig Raine, celebrated poet himself and biographer of Eliot, who also appears in the programme.
With Lenny Henry taking the role of Groucho, Jakko Jakszyk has woven a delicate vocal and instrumental score around the letters, while he and Lenny together speculate about the nature of the men's seemlingly unlikely passion for each other's work.
After a number of failed arrangements, in June 1964, a car arrives at the Savoy to collect Groucho and his wife to take them the short distance to Eliot's home for the much-awaited dinner. Yet such is the nature of celebrity that when Groucho quoted lines from Eliot's The Wasteland back to him, he was uninterested, and Groucho, in turn, was unable to recall the scene from Duck Soup that Eliot particularly loved. They parted, disappointed and a little dejected. Yet, nine months later, on learning of the poet's death, Marx wrote: "he was a nice man, the best epitaph any man can have...".
Last on
Credits
| Role | Contributor |
| --- | --- |
| Groucho Marx | Lenny Henry |
| Writer | Jakko Jakszyk |
| Producer | Simon Elmes |
Broadcasts