Main content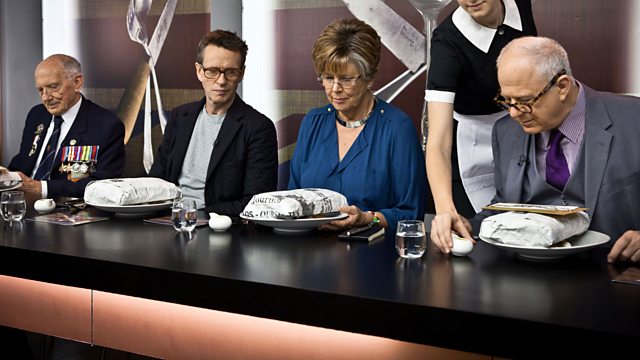 The banquet arrives and the victorious four chefs put their finest dishes on a plate for those who served both on the front line and the home front during WWII.
The banquet is finally here. It's the culmination of months of hard work as the winning four chefs strive to deliver their dishes to an expectant audience of wartime heroes at St Paul's Cathedral, a bastion of British wartime resilience.
In preparation for the big event, the chefs have further researched life during World War II, visiting the scene of the invasion in Normandy with D-Day veteran Ken Sturdy, who describes his experiences of landing on Sword Beach and even going up to the roof of the Treasury to see where Churchill used to stand and observe London during the Blitz.
When the chefs first arrive at the cathedral there's a nasty shock when they discover the kitchens aren't quite up to banquet standards. With some help from judges Oliver Peyton and Matthew Fort the situation is soon rectified but the delay puts the chefs under pressure forcing one of them to work long into the night.
The following day it's the moment of truth as the victorious four must put their finest hours on a plate for those who served both on the front line and the home front, such as D-Day veterans Ken Sturdy and George Batts, one of Churchill's secretaries Joy Hunter and Bletchley Park cypher clerk Baroness Trumpington, as well as others including Churchill's granddaughter Celia Sandys.
Credits
| Role | Contributor |
| --- | --- |
| Series Producer | Tom Clarke |
| Executive Producer | Nicola Moody |
| Participant | Oliver Peyton |
| Participant | Matthew Fort |
| Participant | Ken Sturdy |
| Participant | George Batts |
| Participant | Joy Hunter |
| Participant | Baroness Trumpington |
| Participant | Celia Sandys |