Main content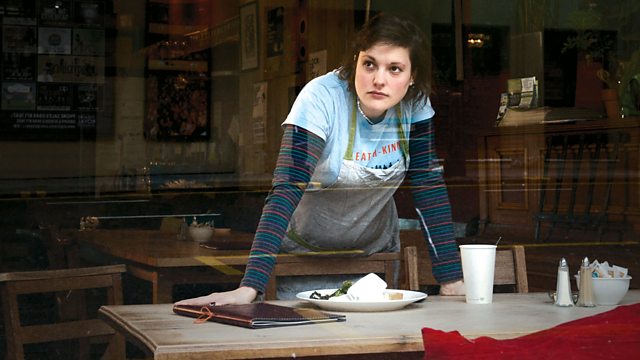 4 Extra Debut. Josie left her life in London for a better one in Glasgow, taking on the world with her flatmate. Stars Josie Long. From 2014.
A woman called Josie leaves London for better life in Glasgow – at the indie band theme park, where she will finally be happy and accepted.
Her flatmate Darren is just happy having his meals cooked by someone other than his mum.
Together they drink tea and wander the streets searching for romance and adventure, making fun of squares and making up games. It's them against the world, or so Josie hopes. How much can you rely on a friend who doesn't want to grow up?
Based on characters from the short films "Romance and Adventure" and "Let's Go Swimming" by Josie Long and Douglas King.
Written by and starring Josie Long
Successful pilot which sparked the following series.
Josie ...... Josie Long
Darren ...... Darren Osborne
Roddy ...... Roddy MacNeill
Kerry ...... Hatty Ashdown
Eleanor ...... Clare Grogan
Geoff ...... Geoff McGivern
Heidi...... Jaimi Barbakoff
Helen ...... Elaine Claxton
Chris ...... Michael Bertenshaw
Mark ...... Douglas King
Other parts played by the cast.
Photograph of Josie in the Cafe by Stephanie Gibson
Producer: Colin Anderson
First broadcast on BBC Radio 4 in June 2014.
Last on
Clips

Credits
| Role | Contributor |
| --- | --- |
| Josie | Josie Long |
| Darren | Darren Osbourne |
| Roddy | Roddy Macneill |
| Kerry | Hatty Ashdown |
| Eleanor | Clare Grogan |
| Aileen | Clare Grogan |
| Bernie | Clare Grogan |
| Geoff | Geoffrey McGivern |
| Scotrail Man | Geoffrey McGivern |
| Old Man in Pub | Geoffrey McGivern |
| Heidi | Jaimi Barbakoff |
| Ppi Message | Jaimi Barbakoff |
| Permatan Woman | Jaimi Barbakoff |
| Helen | Elaine Claxton |
| Voicemail | Elaine Claxton |
| Darren's Mum | Elaine Claxton |
| Chris | Michael Bertenshaw |
| Brian | Michael Bertenshaw |
| Mark | Douglas King |
| Writer | Josie Long |
| Producer | Colin Anderson |
Broadcasts