Main content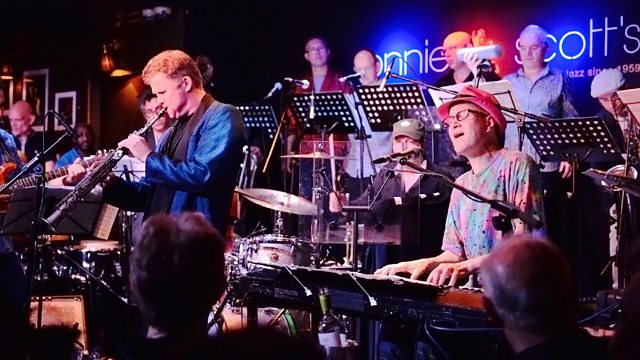 Loose Tubes
Legendary British big band Loose Tubes reunited and in concert at Ronnie Scott's, performing new music commissioned by BBC Radio 3
A second chance to hear legendary British big band Loose Tubes, reunited and in concert at Ronnie Scott's, performing new music commissioned by BBC Radio 3.
Bursting onto the scene in the 1980s, Loose Tubes represented one of the most exciting movements in British jazz history, winning crowds over with a combination of trailblazing compositions, anarchic stage performances and an irreverent sense of humour. Twenty four years after their last outing, they're back at their spiritual home of Ronnie Scott's, with all that original spirit intact. This performance features brand new music from the band's composers Chris Batchelor, Steve Berry, Eddie Parker and Django Bates, alongside a selection of old favourites.
Presenter: Jez Nelson
Producer: Chris Elcombe
First broadcast 09/06/2014.
Music Played
John Fordham joins Jez at Ronnie Scott's

Loose Tubes in concert at Ronnie Scott's, London on 8 May 2014

Loose Tubes in concert at Ronnie Scott's, London on 8 May 2014
Line Up
Flutes: Eddie Parker
Clarinets: Dai Pritchard
Alto / Soprano Sax: Steve Buckley
Alto / Soprano Sax: Iain Ballamy
Tenor Sax: Mark Lockheart
Tenor Sax: Julian Nicholas
Baritone Sax: Julian Argüelles 
Trumpet: Lance Kelly
Trumpet: Noel Langley
Trumpet: Chris Batchelor
Trumpet: John Eacott
Trombone: John Harborne
Trombone: Ashley Slater
Trombone: Richard Pywell
Bass Trombone: Richard Henry
Tuba: Dave Powell
Keyboards: Django Bates
Guitar: John Parricelli
Bass: Steve Watts
Drums: Martin France
Percussion: Louise Petersen Matjeka