Main content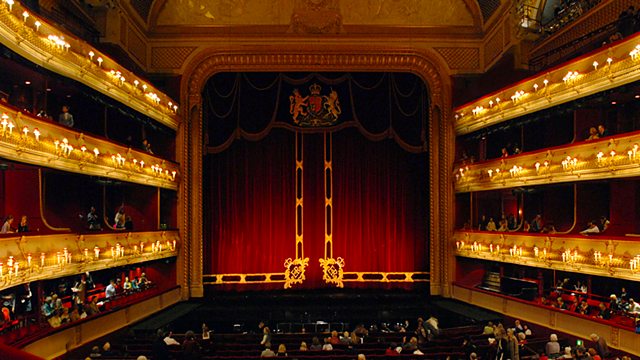 Poulenc's Dialogues des Carmelites
Simon Rattle conducts Poulenc's opera Dialogues des Carmelites at the Royal Opera House, Covent Garden. With Sally Matthews, Anna Prohaska, Sophie Koch and Yann Beuron.
Poulenc's Dialogues des Carmélites.
Live from the Royal Opera House, Covent Garden.
Presented by Sara Mohr-Pietsch with Jeremy Sams
Poulenc takes the harrowing story of the martyrdom of the nuns of Compiègne during the French Revolution, and creates a rich and moving work which centres on Blanche, a young novice who deals with her own fears to face her destiny.
Robert Carsen's production comes to London as Simon Rattle returns to Covent Garden to conduct his first production there since Debussy's Pelléas et Mélisande in 2007.
Blanche ..... Sally Matthews (Soprano)
Constance ..... Anna Prohaska (Soprano)
Madame Lidoine ..... Emma Bell (Soprano)
Mother Marie ..... Sophie Koch (Mezzo-soprano)
Madame de Croissy ..... Deborah Polaski (Soprano)
Marquis de la Force ..... Thomas Allen (Baritone)
Chevalier de la Force ..... Yann Beuron (Tenor)
Mother Jeanne ..... Elizabeth Sikora (Mezzo-soprano)
Sister Mathilde ..... Catherine Carby (Mezzo-soprano)
Father Confessor ..... Alan Oke (Tenor)
First Commissary ..... David Butt Philip (Baritone)
Second Commissary ..... Michel De Souza (Baritone)
First Officer ..... Ashley Riches (Baritone)
Gaoler ..... Craig Smith (Conductor)
M.Javelinot ..... John Bernays (Bass)
Thierry ..... Neil Gillespie (Tenor)
Royal Opera House Orchestra
Royal Opera House Chorus
Simon Rattle (Conductor).
Synopsis
The opera is set in Paris during the French  Revolution and the subsequent Terror, 1789–94
Act I
The Marquis de la Force talks about his daughter Blanche and about the political unrest in Paris with his son the Chevalier. The Marquis is convinced that the current political and social problems will quickly pass. Blanche enters in some agitation – her carriage was surrounded by rioters on her journey home. She goes to her room but soon returns, terrified by a shadow on her wall. She tells her father that she wishes to renounce the world and become a nun.
Blanche visits the Carmelite convent at Compiègne. The elderly and ill Prioress, Madame de Croissy, warns Blanche of the austerity of their order. She questions her intently about why she wishes to become a nun, reminding her that she will not be able to escape her fears in the convent. Finally convinced that Blanche is serious in her resolve, the Prioress admits her into the order. Blanche takes the name of 'Sister Blanche of the Agony of Christ'. While working with Sister Constance, another young novice, Blanche is shocked by Constance's cheerfulness, and even more shocked when Constance tells her that she has had a premonition that she and Blanche will both die young, on the same day and together.
On her deathbed, Madame de Croissy entrusts Blanche to the care of Mother Marie, and gives Blanche her final blessing. Blanche watches in terror as Madame de Croissy, in her final agony, confesses her fear of death.
Act II
Blanche and Constance watch over the body of Madame de Croissy. When Blanche is left alone she tries to runs away. Mother Marie prevents her, first scolding and then comforting her. Constance muses about the nature of Madame de Croissy's death. The new Prioress, Madame Lidoine, explains her plans for the order, and warns the nuns of coming adversity; the revolutionaries are unsympathetic to the Catholic faith. She leads the nuns in prayer.
Blanche's brother, the Chevalier de la Force, arrives. Blanche is allowed to speak with him, providing Mother Marie is present. The Chevalier tells Blanche that she is in danger in the convent, both as an aristocrat and as a nun, and he urges her to leave with him. Blanche tells him that she is prepared to die if need be, and that she intends to remain there. The convent's Father Confessor has been forbidden by the revolutionary government to preach, and has to go into hiding. He and the Carmelites pray together for the last time. The nuns discuss the political situation, and the danger that they are in. Mother Marie suggests that the Carmelites can save France by offering their lives as martyrs, but Madame Lidoine warns that voluntary martyrdom is a sin. Officers enter and tell the Carmelites that the convent is now civil property; the nuns must renounce their faith and leave. Frightened, Blanche accidentally drops and smashes a statue of the Infant Jesus.
Act III
The Carmelites gather in the ransacked chapel. In Madame Lidoine's absence, Mother Marie proposes that the sisters take a vow of martyrdom. The community takes a secret vote – any dissenters will make the decision invalid. When the result is announced, Constance claims that the one dissenting vote was hers, but that she has now changed her mind. When the vote is allowed to stand, Blanche runs away. The Carmelite community is declared invalid and disbanded by the Revolution, and the sisters are forbidden to wear their nun's habits. In the meantime, Madame Lidoine has returned, and she agrees to endorse the vow of martyrdom.
Mother Marie searches for Blanche and finds her in her former home. Her father has been guillotined, and Blanche is now employed there as a servant. Mother Marie warns Blanche that her life may be safe, but not her soul: she orders her to return. When Blanche refuses, Mother Marie gives her an address where she can live in safety. In prison, Madame Lidoine comforts the other nuns. The gaoler announces that the Revolutionary Tribunal has condemned them all to death. The nuns pray together and Madame Lidoine gives them her blessing.
Mother Marie, absent from the convent when her sisters were arrested, is stopped from joining them by the Father Confessor, who tells her that God must have spared her for a purpose. The nuns mount the scaffold, singing the Salve Regina. One by one they are guillotined. Constance is among the last, but as her turn approaches, she is joined by Blanche, calm and fearless. As Constance predicted, the two women die together.
Robert Carsen