Main content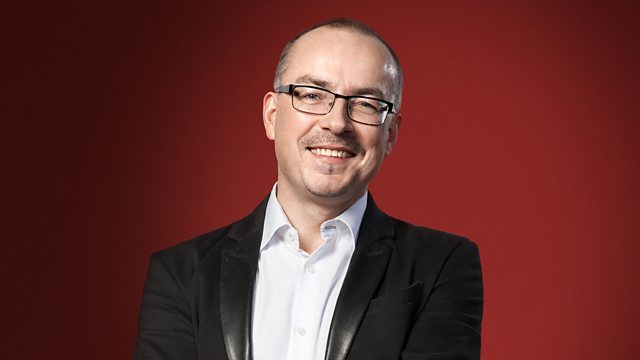 Building a Library: Strauss: Der Rosenkavalier
With Andrew McGregor. Including Building a Library: Strauss: Der Rosenkavalier; Music from Sibelius, Nielsen and Stenhammar; Disc of the Week: Dvorak: Cello Concerto.
9.00am
Symphony no. 1 in E minor Op.39     
Performers:     BBC S O., Malcolm Sargent 
Composers:    Jean Sibelius (1865 - 1957)   
Album Title:     Guild: GHCD 2414    
6 Lieder Op.68 (Ich Wollt Ein Strausslein Binden)    
Performers:     Christiane Karg, Malcolm Martineau 
Composers:    Richard Strauss (1864 - 1949)          
Album Title:     Berlin Classics: 0300566BC  
Symphony no. 5 in D minor Op.47    
Performers:     Mariinsky Theatre Orchestra, Valery Gergiev          
Composers:    Dmitry Shostakovich (1906 - 1975)  
Album Title:     Mariinsky: MAR0545 
Requiem in D minor K.626, compl. Sussmayr          
Performers:     Genia Kuhmeier, Bernarda Fink, Mark Padmore, Gerald Finley, Netherlands Radio Choir, Royal Concertgebouw Orchestra, Mariss Jansons 
Composers:    Wolfgang Amadeus Mozart (1756 - 1791)    
Album Title:     RCO Live: RCO 14002         
Versa est in luctum for 6 voices [SSATTB] [Liber primus missarum, 1602]
Performers:     Plus Ultra Ensemble  
Composers:    Alonso Lobo (c1555 - 1617)  
Album Title:     Archiv: 479 2610        
Building a Library
Richard Osborne compares recordings of Strauss's Rosenkavalier and makes a recommendation:
Top recommendation (in a single box set):
STRAUSS, R: Der Rosenkavalier
Elisabeth Schwarzkopf (Marschallin), Christa Ludwig (Octavian), Teresa Stich-Randall (Sophie), Otto Edelmann (Ochs), Eberhard Wachter (Faninal), Ljuba Welitsch (Marianne), Paul Kuen (Valzacchi/Tierhandler), Kerstin Meyer (Annina), Nicolai Gedda (Italian Singer), Philharmonia Chorus, Orchestra, Herbert von Karajan (conductor)
EMI 9668242 (3CD budget)
The above also available in a collected edition:
Strauss: The Great Operas
STRAUSS, R: Capriccio; Daphne; Friedenstag; Die schweigsame Frau; Intermezzo; Die Frau ohne Schatten; Ariadne auf Naxos; Der Rosenkavalier; Elektra; Salome
WARNER CLASSICS 4317992 (22CD budget-price)
Top recommendation on DVD:
STRAUSS, R: Der Rosenkavalier
Gwyneth Jones (Marschallin), Brigitte Fassbaender (Octavian), Lucia Popp (Sophie), Manfred Jungwirth (Ochs), Benno Kusche (Faninal), Francisco Araiza (Italian Singer), Anneliese Waas (Marianne), David Thaw (Valzacchi), Gudrun Wewezow (Annina), Orchestra of the Bavarian State Opera, Otto Schenk (director, Munich 1979), Carlos Kleiber (conductor)
DG 0734072 (2DVD mid-price)
New Releases
Mark Lowther joins Andrew live in the studio to discuss a new Sibelius cycle from John Storgards and other new releases from Nordic composers.
Sibelius: Complete Symphonies
SIBELIUS: Symphonies Nos. 1-7 (complete); Late Fragments (3)
BBC Philharmonic, John Storgards (conductor)
CHANDOS CHAN10809(3) (3CD mid-price)
Sibelius: Lemminkainen Suite & The Wood-Nymph
SIBELIUS: Lemminkainen Suite Op. 22; The Wood-Nymph (Skogsraet) Op. 15
Lahti Symphony Orchestra, Osmo Vanska (conductor)
BIS BIS1745 (Hybrid SACD)
Stenhammar: Serenade
STENHAMMAR: Excelsior! concert overture Op. 13; Mellanspel ur kantaten Sangen (Interlude from the cantata The Song) Op. 44; Serenade for Orchestra Op. 31
Royal Flemish Philharmonic, Christian Lindberg (conductor)
BIS BIS2058 (Hybrid SACD)
Nordic Atmospheres
GRIEG: Two Elegiac Melodies Op. 34
KALSONS: Concerto for Clarinet and Chamber Orchestra
LARSSON, L-E: Romans, ur Pastoralsvit Op. 19 (Romance, No. 2 from Pastoral Suite)
NIELSEN: Little Suite in A minor for strings Op. 1 (FS6)
SIBELIUS: Romance in C major for strings Op. 42
VASKS: Musica dolorosa
Egils Šefers (clarinet), Sinfonietta Riga, Claus Efland
CHALLENGE CLASSICS CC72630 (CD)
Nielsen: Symphonies Nos. 4 & 5
NIELSEN: Symphony No. 4 Op. 29 (FS76) 'The Inextinguishable'; Symphony No. 5 Op. 50 (FS97)
Royal Stockholm Philharmonic Orchestra, Sakari Oramo (conductor)
BIS BIS2028 (Hybrid SACD)
11.25am
Overture - La festa cinese      
Performers:     Concerto Koln, Pablo Heras-Casado
Composers:    Nicola Conforto (1718 - c1788)         
Album Title:     Archiv: 002894792050           
Vendado amor es, no es ciego - zarzuela (Tempestad Grande)      
Performers:     Bejun Mehta (countertenor), Concerto Koln, Pablo Heras-Casado  
Composers:    Jose de Nebra (1702 - 1768) 
Album Title:     Archiv: 002894792050           
Canto a Sevilla Op.37 for voice and orchestra vers. original            
Performers:     Maria Espada(soprano), BBC Philharmonic Orchestra, Juanjo Mena         
Composers:    Joaquin Turina (1882 - 1949)
Album Title:     Chandos: CHAN 10819         
The Seven last words of our Saviour on the Cross H.20.1c for piano, transc. from orchestral version, H.20.1a   
Performers:     Alexei Lubimov (tangent piano)         
Composers:    Joseph Haydn (1732 - 1809) 
Album Title:     Zig Zag: ZZT341        
A mortuis resurgere (The Resurrection of Christ) for soprano and string quartet    
Performers:     Susana Cordon (soprano), Brodsky String Quartet  
Composers:    Jorge Grundman (1916)        
Album Title:     Chandos: CHSA 5138           
Amar a dios por dios for 4 voices      
Performers:     Raquel Andueza (soprano), Jesus Fernandez Baena (theorbo)       
Composers:    Domenico Mazzocchi (c1592 - 1665)           
Album Title:     Anima e Corpo: AeC002       
Disc of the Week
Concerto in B minor Op.104 for cello and orchestra             
Performers:     Alisa Weilerstein, Czech Philharmonic Orchestra, Jiri Belohlavek   
Composers:    Antonin Dvorak (1841 - 1904)           
Album Title:     DECCA : 478 5705