Main content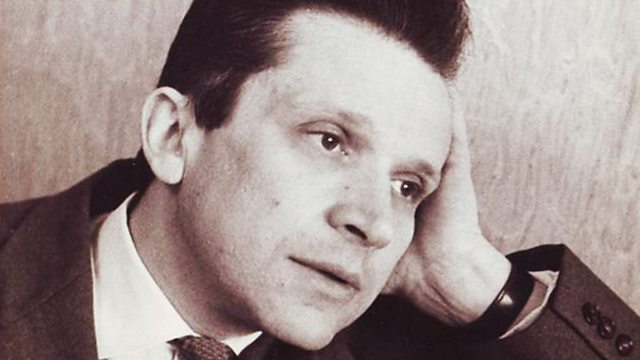 Weinberg's 'Starry Years'
Donald Macleod explores the music of Weinberg's most productive period, a time he himself termed his 'starry years', including his first opera, The Passenger.
Over the past seven decades, Composer of the Week has delved into just about every major composer in classical music, and plenty of less well-known ones too. As the programme reached its 70th birthday last year, Donald Macleod challenged listeners to come up with the name of a deserving composer who had never previously been featured. Suggestions flooded in, over four-and-a-half-thousand of them, and of these, more than 20 made the case for an obscure Soviet composer of Polish-Jewish origin, Mieczyslaw Weinberg. Weinberg's music is well represented on CD, and as Donald heard more and more of it, his astonishment that he hadn't come across it before grew commensurately. So all this week, Donald Macleod explores the life and work of Mieczyslaw Weinberg, in the company of writer, broadcaster and champion of unjustly neglected composers, Martin Anderson.
Today, music from Weinberg's most productive period, the 1960s. He termed them his 'starry years', although in that light he may well have viewed 1966 as something of an aberration. This was the year of his first and, as it would be, only return to Poland after his escape from the country almost three decades earlier. Now he was a respected member of a Soviet cultural delegation, but by all accounts it was a dismal trip for him; his music was seen as old-fashioned, and the limelight was occupied by the Polish avant-garde, who paid little attention to him. He must have had his suspicions for years, but it was around this time that he learnt definitively of the fate of his family. When he had fled from Warsaw in 1939, his parents and younger sister had stayed behind; now he discovered that they had died in the Treblinka extermination camp. This terrible knowledge must have fed into the choice of subject for his first opera, The Passenger, about a woman who survives Auschwitz then, years later, encounters her former gaoler on a cruise-ship. Weinberg never saw this extraordinarily powerful and disturbing work performed; it wasn't premièred till 2010, 14 years after his death.