Main content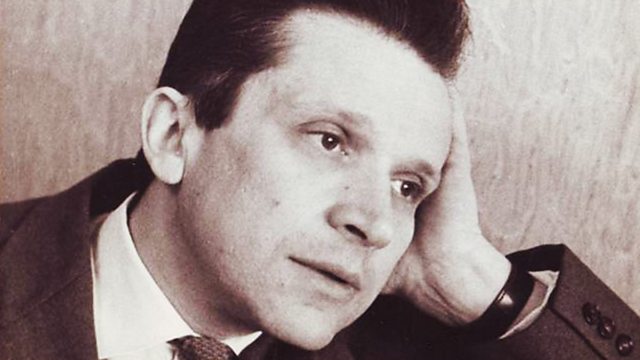 Out of the Frying Pan, Into the Fire
With Donald Macleod and Martin Anderson. Weinberg is in Moscow and, having escaped the Nazis twice, faces further threat from Joseph Stalin.
Over the past seven decades, Composer of the Week has delved into just about every major composer in classical music, and plenty of less well-known ones too. As the programme reached its 70th birthday last year, Donald Macleod challenged listeners to come up with the name of a deserving composer who had never previously been featured. Suggestions flooded in, over four-and-a-half-thousand of them, and of these, more than 20 made the case for an obscure Soviet composer of Polish-Jewish origin, Mieczyslaw Weinberg. Weinberg's music is well represented on CD, and as Donald heard more and more of it, his astonishment that he hadn't come across it before grew commensurately. So all this week, Donald Macleod explores the life and work of Mieczyslaw Weinberg, in the company of writer, broadcaster and champion of unjustly neglected composers, Martin Anderson.
Today, Weinberg settles in to his new life in Moscow. He had escaped the Nazis - twice - but now he had another threat to contend with: Joseph Stalin, whose grip on the Arts was becoming tighter with every new decree. Stalin regarded writers - and, increasingly, other artists - as 'engineers of the human soul', and he was determined to engineer their output. In 1946, the composer Khachaturian complained that Weinberg "turns to the national melos so extremely rarely" - a hint that his music was insufficiently tuneful and patriotic. Perhaps it was with this criticism in mind that Weinberg wrote his Rhapsody on Moldavian Themes, a work the authorities heartily approved of; strangely, its essentially Jewish character seems to have escaped their attention. Jews were officially tolerated by the regime but increasingly singled out for opprobrium - and worse; Weinberg's father-in-law Solomon Mikhoels, artistic director of the Moscow State Jewish Theatre, had been under surveillance for years when he eventually met his end in what was officially billed as a 'car crash'. Weinberg must have sensed that his Cello Concerto, written in the year of Mikhoels's demise, would not find official favour; he withheld it till after the death of Stalin, when it was premièred by Mstislav Rostropovich.