Main content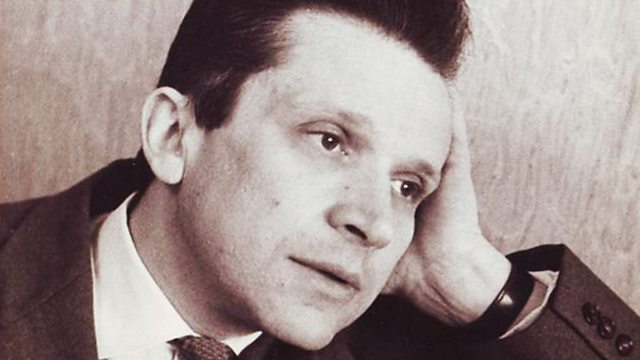 The Greatest Composer You've (Probably) Never Heard of
Donald Macleod on Mieczyslaw Weinberg's journey from Warsaw to Minsk, then to Tashkent, as he fled the Nazis. After he wrote his First Symphony, Shostakovich, and Moscow, beckoned.
Over the past seven decades, Composer of the Week has delved into just about every major composer in classical music, and plenty of less well-known ones too. As the programme reached its 70th birthday last year, Donald Macleod challenged listeners to come up with the name of a deserving composer who had never previously been featured. Suggestions flooded in, over four-and-a-half-thousand of them, and of these, more than 20 made the case for an obscure Soviet composer of Polish-Jewish origin, Mieczyslaw Weinberg. Weinberg's music is well represented on CD, and as Donald heard more and more of it, his astonishment that he hadn't come across it before grew commensurately. So all this week, Donald Macleod explores the life and work of Mieczyslaw Weinberg, in the company of writer, broadcaster and champion of unjustly neglected composers, Martin Anderson.
Today, with the Nazis on the horizon, Weinberg flees for his life - first from Warsaw to Minsk, then from Minsk to the central-Asian city of Tashkent, where he composed his First Symphony. The score came to the attention of Dmitri Shostakovich, who was so impressed that he arranged for Weinberg to move to Moscow; he would live out the rest of his life there, with Shostakovich a lifelong friend and supporter. That fateful symphony was to be the first of more than 20. Weinberg also wrote 17 string quartets; we'll hear from the second of them, composed in Minsk but bearing no obvious traces of the traumatic experiences its composer had recently lived through. In Tashkent he also composed a poignant set of Children's Songs, which he followed up a year later with the first of his Children's Notebook collections, written for his own instrument, the piano. The highlight of the programme is a recording of Weinberg's Piano Quintet with the composer himself at the keyboard, joined by the Borodin Quartet in its legendary original lineup.
More episodes
Previous
You are at the first episode