Main content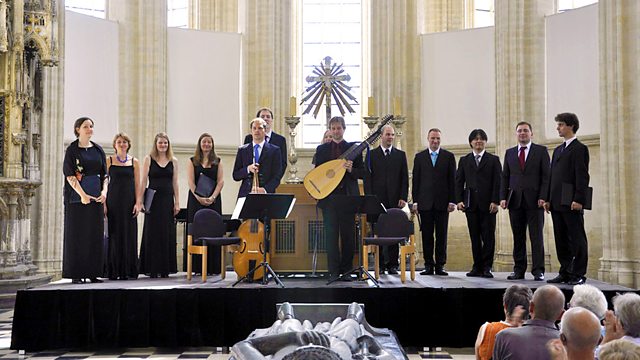 Vox Luminis
Lucie Skeaping introduces a concert in which the vocal ensemble Vox Luminis recreates the 17th-century funerals of a German prince and and English queen.
Lucie Skeaping introduces highlights from a concert recorded last month at this years Lufthansa Festival of Baroque Music. The award-winning Belgian-based vocal ensemble, Vox Luminis, along with QuintEssential Sackbut and Cornett Ensemble recreate two funerals from 17th century Germany and England.
Schütz's Musicalische Exequien was written during the searingly violent 30 years war for Heinrich Posthumus Reuss, a minor aristocrat who was so keen to hear the music written for his funeral that it was performed several times during his lifetime.
It is often assumed that Purcell's Funeral sentences were written for the funeral of Queen Mary in 1695, but although Purcell's music was included, it was Thomas Morley's music that was sung. Both Morley's and Purcell's settings are performed in this concert.
Vox Luminis
QuintEssential Sackbut and Cornett Ensemble
Lionel Meunier (director)
Music includes:
Schütz - Musicalische Exequien
Purcell & Morley - Music for the Funeral of Queen Mary
Purcell - Funeral Sentences
Producer Helen Garrison.