Main content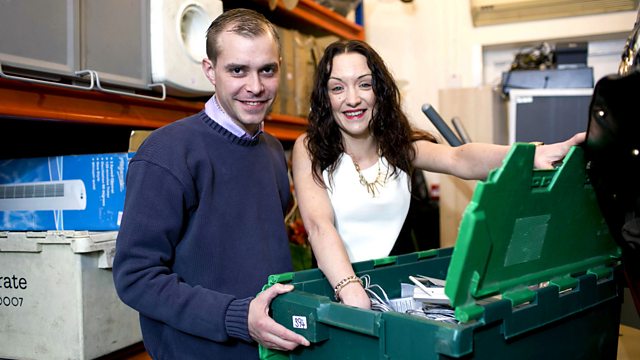 Documentary series following the nation's wheeler dealers. Rag and bone man Brian nets a cabinet at a house clearance which could be worth tens of thousands of pounds.
All over the country real life Del Boys are on the make. For these wheelers and dealers, every item, no matter how unlikely, is for sale. When it is time for fresh stock, they head to so-called 'Trash or Treasure' auction houses, where they sift through lost property, repossessed goods and house clearances in an attempt to discover the lot that can transform them into millionaires.
Richie and Nikki have been playing the auction game for the last decade - trading in everything, but specialising in gold. At a pre-auction viewing day they spot what looks like a valuable silver coffee set. Can they win the lot in the face of tough competition from the local big-player? And will the picture illustrations they win be as valuable as Nikki hopes?
Auction addict Sharon has given up a steady job working in a chemist to become a professional trader. Alongside long-suffering husband Al, she's now turned their house into a stock room filled with all manner of junk. The couple have scrapped together a few thousand pounds from their trading but now Al, fed up with the small-time, wants to gamble all of their savings on a second hand Porsche.
Ieuan works in a supermarket in Pontypridd, South Wales. He dreams of being a millionaire and spends all his spare cash at the local auction buying and selling anything he can make money on. He spots what he thinks is a valuable Rolex watch. Will it be his ticket to a new life as a full-time trader?
In Braintree, Essex, Brian comes from a long line of rag and bone men. He makes a good living buying and selling all sorts of junk no-one else wants. A house clearance contract nets him a three-cornered cabinet he thinks could be worth tens of thousands.
Credits
| Role | Contributor |
| --- | --- |
| Executive Producer | Daniel Fromm |
| Director | James Dawson |