Main content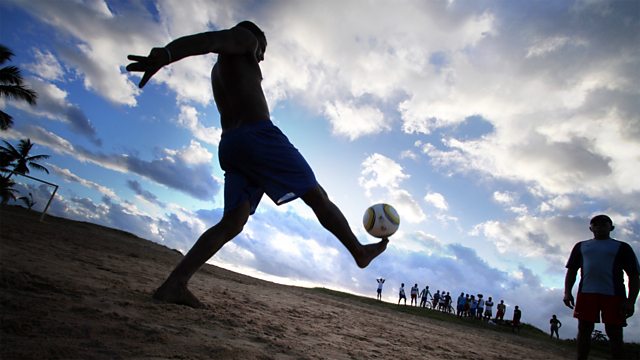 David Goldblatt unravels the story of Brazil through its historical passion for football where nation and game have shaped each other.
David Goldblatt tells the story of Brazil through its abiding passion for the game of football, a game that has both shaped and been shaped by the dreams of generations of Brazilians. 1: Futebol Nation, In 1934, despite over a hundred years of Brazilian independence and nearly half a century as republic, poet Carlos Drummond de Andrade was still asking "Are there any Brazilians?"
The authoritarian regime of Getullio Varags which would rule the country from 1930 to 1945, and create the institutional structures of the modern Brazilian nation was asking the same question. Spared the horrors of industrial war, Brazil had no martial tradition from which to invent itself. Given the very low levels of literacy, a national press and literary culture were equally ineffective. For most of the twentieth century the nation's intelligentsia had thought that Brazil might be a new white Europe in the tropics, but as the nation's rapidly expanding cities filled with black, mulatto and indigenous Brazilians this simply did not make sense. Brazil's unique music, dance and religious moment reflected its real ethnic mix, but none could capture a sense of modernity or provide a source of international triumph. In football and in the World Cup above all, Brazil would find both.
Producer: Mark Burman.
Last on
More episodes
Previous
You are at the first episode
Broadcast

Featured in...
A selection of programmes celebrating football

A selection of programmes and clips relating to Brazil