Main content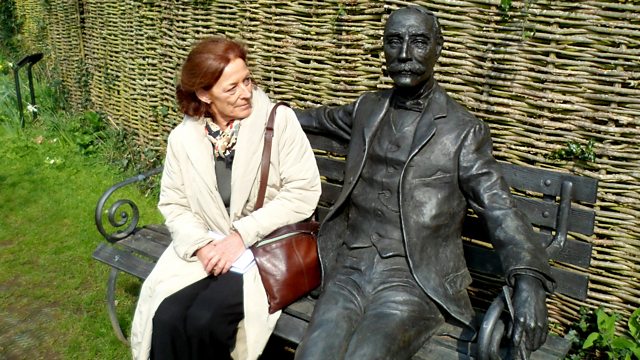 Frances Fyfield is joined by violinist Rupert Marshall Luck and pianist Lucy Parham to explore the love story behind the autograph manuscript Elgar's salon classic Salut D'Amour.
In this tenth series of Tales from the Stave Frances Fyfield takes her musical investigation of the handwritten manuscripts of our greatest composers back to the birthplace of the man who was the subject of the first ever programme. The cottage in which Edward Elgar was born in Lower Broadheath, near Worcester, is now a museum in his honour, and amongst the rich archive of his life and that of his wife Alice is the piece that confirmed their relationship.
Salut D'Amour was Elgar's response to a poem 'Love's Grace' that Alice had written to him in 1888. The museum has both the original poem and the careful perfection of Elgar's autograph score of Salut D'Amour which was sent to the publisher Schott. It has all the hallmarks of Elgar's elegant hand, complete with detailed corrections pasted over the manuscript and the composers confident list of potential versions of the piece for piano and violin, piano solo and orchestra. Originally called Liebesgruss - or love's greeting, it was translated into French on the advice of the publisher. Elgar and Alice both spoke good German but French, they suggested, would sell better. Sell it certainly did. In Elgar's lifetime it was one of his most famous compositions.
Frances is joined at the Birthplace museum by Pianist Lucy Parham, Violinist and scholar Rupert Marshall Luck who has been working on a new edition of the piece, and handwriting analyst Ruth Rostron.
The museum supervisor Chris Bennett invites Frances' guests to play the piece from the score in the composers own hand, a unique and moving moment for both.
But it's the importance of Alice Elgar in the life of the composer that sings through this tiny musical gem. It's a piece often dismissed by those who would only have Elgar as the grandest of grand artists, as mere Salon music. However as Frances discovers it contains the very best of him for the very best of her, and in spite of rumours of friction and distance in later married life, the bond between them remained solid. It was cemented first in Salut D'Amour.