Main content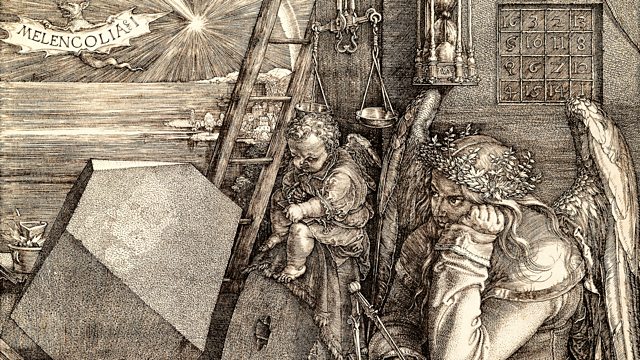 Melencolia
It is 500 years since Nuremberg artist Albrecht Durer created his masterprint, Melencolia 1. Dr Janina Ramirez explores the creative influence and mysteries of this iconic image.
Albrecht Durer was the Steve Jobs of his day. Master engraver, painter and unafraid of mixing creativity with a keen eye for business. He was well regarded in his own lifetime and acknowledged as the most important artist of the Northern Renaissance. Among his many works, it's his master print Melencolia 1 which is the most written about and which continues to intrigue those who look at it. Created in 1514, it has perplexed and inspired some of the greatest minds in history. The print adorned the studies of both Sigmund Freud and Albert Einstein.
Art historian Dr. Janina Ramirez is fascinated by this work and the secrets it contains from the brooding angel to the magic square. In this programme she's on a quest to find out if it's possible to decode this intricate engraving. She sees a couple of prints at the British Museum with Giulia Bartrum and Dora Thornton. We hear how the work inspired composer, Sir Harrison Birtwistle to compose his Melencolia I for his friend, the clarinettist, Alan Hacker. Janina lectures her students on the work and hears their initial response to the symbols and she meets former art student, David Lol Perry who had the print on his wall and became mesmerised by it.
Writer and art historian, Patrick Doorly, author of The Truth about Art sheds light on the print and suggests that in order to truly understand it, you also need to know your Plato.
Join Janina on her quest to decode Durer.
Producer: Sarah Taylor
Patrick Doorly: The Truth about Art: Reclaiming quality (Zero Books, 2013) ISBN 978-1-78099-841-1.
Last on

Broadcast

Featured in...
A collection of Radio 4 programmes about Germany.