Main content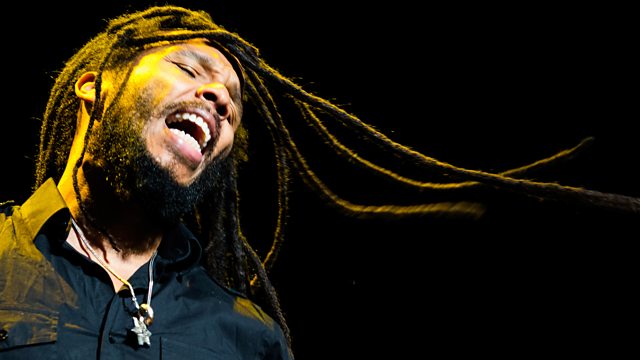 Adventurer Ed Stafford and the Inheritance Tracks of Ziggy Marley
Richard Coles and Suzy Klein with adventurer Ed Stafford, JP Devlin in Hay-on-Wye, the Inheritance Tracks of Ziggy Marley and the varied life of a stem cell courier.
Richard Coles and Suzy Klein with adventurer Ed Stafford whose latest book 'Naked and Marooned' charts 60 days completely alone with nothing but a camera. Ed discusses his world travels and the profound psychological impact enforced, albeit self imposed, solitude, had on him.
Lady Catherine Meyer lost both of her sons when her former husband abducted them and took them to Germany against the ruling of a British court. Years of legal battles ensued but Catherine couldn't get the boys back. Years later they got back in touch and are now reunited. Catherine set up a charity, 'PACT' to campaign for fundamental improvements in child protection policies and practices and help people in similar circumstances.
Peter Hodes is a volunteer stem cell courier for Anthony Nolan. He travels the world delivering vital human material for transplant operations and talks to us about his work and travels.
Joanne Harris suffered with Motor Neurone Disease. She'd written about her condition in the Guardian Newspaper and was planning to record an audio column for us here at 'Saturday Live' but sadly died before she could complete it. Since she very much wanted to broadcast her piece, a close friend, Ann, agreed to do it and both Ann and Jo's brother discuss how Jo coped with such a debilitating condition.
JP Devlin goes to Hay on Wye to talk to people just before the Hay Literary Festival descends on the town.
Listener Chris Markiewicz talks about the joy of hearing a 1967 1275 cc Austin Healey Sprite engine.
Ziggy Marley, son of Bob Marley, shares his Inheritance Tracks, choosing a piece by his Dad and a song he wrote and performed himself. Africa Unite (Bob Marley) and I Dont Wanna Live on Mars (Ziggy Marley).
Produced by Chris Wilson.
Last on

Clips

Studio Photo: Peter, Suzy, Richard, Murray, Ed and Lady Catherine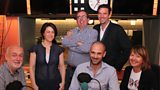 Peter Hodes, Suzy Klein, Richard Coles, Murray Lachlan Young, Ed Stafford and Lady Catherine Meyer
POEMS :: Murray Lachlan Young
SUMMER IS CALLING
Can you see it, can you really feel it?
Bracken fronds jump up through last years dead.
Shrieking past the bramble boughs and on
The vanguard of their fast descending hoard.
Proclaiming ferny to soaking sun
Through rain flecked birdsong's muted sweetness
Calling from the verdant Beltane bloom
Spring is in its late and lustrous youth
Sumptuous still yet to reach it's luscious peak
Can you feel it, can you smell it?
Summer is just a moment from our door.
BANK HOLIDAY THINKING
Bank holiday weekend
So no work on Monday
For Monday's like Sunday
So Friday's like Thursday
And Sunday's like Saturday
So Saturday's Friday
For Monday is Sunday
But Tuesday is normal
But turns into Monday
Thus Wednesday to Tuesday
And Thursday to Wednesday
And Friday to Thursday
But suddenly Saturday
Trundles up early
But without a question is
The first day of the weekend
But does this next Saturday
(Post holiday Monday)
Now have the same value
As it does in a 'real' week?
Or does it experience
A partial loss of value?
Due to the fact
That it's come along quicker
Leading to a general
Denigration of weekdays?
I think not, for as we know
Saturday's Saturday
Saturday's simply
Not ever mistaken
Unless on Bank holiday
Where its feels quite like Friday
And also quite possibly
A tiny bit like Sunday
But taken in context
Of the previous explanation
It is what it is
Without query or question
Which means all is normal
And Honest and decent
And back in the proper
Gregorian progression
Unless it's a leap year
Where whole days go missing
And nothing is ever
Quite right to begin with
Depending of course
On a persons perspective
Which without a doubt
Is just nobody's business
But fear not for all has now
Been well explained
Be there wind be there sun
Be there hail even rain
For next Saturday (in it's own time)
Will soon come along
So in the 'tween time,
Please feel free
To get your bank holiday
Freak on.
Credits
| Role | Contributor |
| --- | --- |
| Presenter | Richard Coles |
| Presenter | Suzy Klein |
| Interviewed Guest | Ed Stafford |
| Interviewed Guest | Catherine Meyer |
| Interviewed Guest | Peter Hodes |
| Interviewed Guest | JP Devlin |
| Interviewed Guest | Chris Markiewicz |
| Interviewed Guest | Ziggy Marley |
| Producer | Chris Wilson |
Broadcast

Featured in...
A collection of programmes and clips relating to Hay on Wye and the literary festival