Main content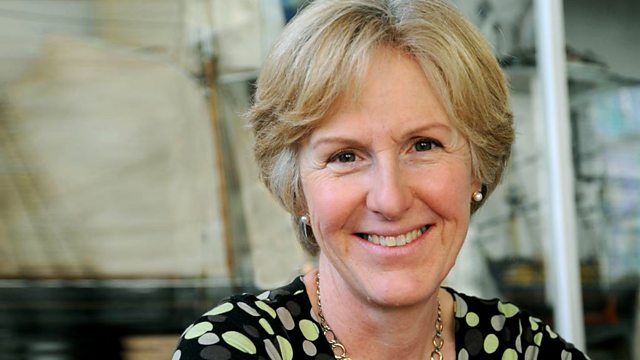 31/05/2014
Catriona Young presents archive recordings from the Royal Concertgebouw Orchestra.
Paavo Berglund and Pierre Boulez conduct the Royal Concertgebouw Orchestra in performances of Sibelius and Schoenberg. Catriona Young presents.
1:01 AM
Sibelius, Jean [1865-1957]
Symphony no. 4 in A minor Op.63;
Royal Concertgebouw Orchestra, Paavo Berglund (conductor)
1:34 AM
Schoenberg, Arnold [1874-1951]
Verklärte Nacht Op.4, arr. for string orchestra
Royal Concertgebouw Orchestra, Pierre Boulez (conductor)
2:06 AM
Chopin, Fryderyk [1810-1849]
12 Studies Op.10 for piano
Lukas Geniusas (piano)
2:37 AM
Bach, Carl Philipp Emanuel (1714-1788)
Concerto for flute and strings in D minor (H.426)
Robert Aitken (flute), CBC Vancouver Orchestra, Mario Bernardi (conductor)
3:01 AM
Rachmaninov, Sergei (1873-1943) [Text by Konstantin Balmont adapted from Edgar Alan Poe's poem]
The Bells - poem for soloists, mixed choir and symphony orchestra (Op.35)
Roumiana Bareva (soprano), Pavel Kourchoumov (tenor), Stoyan Popov (baritone), 'Sons de la mer' Mixed Choir Varna, Bulgarian National Radio Symphony Orchestra, Vassil Stefanov (conductor)
3:39 AM
Vanhal, Johann Baptist (1739-1813)
Concerto for 2 bassoons
Kim Walker & Sarah Warner Vik (bassoons), Trondheim Symphony Orchestra, Arvid Engegaard (conductor)
4:01 AM
Wagner, Richard (1813-1883) transcr. Liszt
Isolde's Liebestod transc. Liszt for piano (S.447)
François-Frédéric Guy (piano)
4:09 AM
Carniolus, Iacobus Gallus (1550-1591)
2 Motets: Pater noster, qui es in coelis (OM 1/69), Ave verum corpus (OM 3/25)- from Opus Musicum
Ljubljanski madrigalisti, Matjaž Šcek (director)
4:16 AM
Haydn, Joseph (1732-1809) or possibly Pleyel, Ignace (1757-1831) arr. Perry, Harold
Divertimento (Feldpartita) (H.2.46) in B flat major arr. for wind quintet (attributed to Haydn, possibly by Pleyel)
Bulgarian Academic Wind Quintet: Georgi Spasov (flute), Georgi Zhelyazov (oboe), Petko Radev (clarinet), Marin Valchanov (bassoon), Vladislav Grigorov (horn)
4:26 AM
Pejacevic, Dora (1885-1923)
Four piano pieces: Barkarola; Song without words (Op.5); Butterfly (Op.6); Impromptu (Op.9)
Ida Gamulin (piano)
4:36 AM
Milhaud, Darius (1892-1974), arr. Timothy Kain
Scaramouche
Guitar Trek: Timothy Kain, Carolyn Kidd, Mark Norton, Peter Constant (guitars)
4:47 AM
Handel, Georg Friedrich (1685-1759)
Almirena's aria 'Lascia ch'io pianga' from Act 2 Sc.2 of 'Rinaldo' (HWV.7)
Marita Kvarving Sølberg (soprano), Norwegian Radio Orchestra, Kjetil Haugsand (conductor)
4:52 AM
Torelli, Giuseppe [1658-1725]
Sonata in D for trumpet, strings and basso continuo
Sebastien Philpott (trumpet) European Union Baroque Orchestra, Lars Ulrik Mortensen (conductor)
5:01 AM
Geminiani, Francesco (1687-1762)
Concerto No.1 in D major, Op.7 No.1 (1746)
Academy of Ancient Music, Andrew Manze (director/violin)
5:09 AM
Chopin, Fryderyk [1810-1849]
Rondo in C (Op. 73) for 2 pianos
Dina Yoffe & Daniel Vaiman (pianos)
5:20 AM
Bach, Johann Sebastian (1685-1750)
Komm, süsser Tod, komm, sel'ge Ruh! (BWV.478); Liebster Herr Jesu, wo bleibst du so lange? (BWV.484); O finstre Nacht, wann wirst du doch vergehen (BWV.492); So wünsch' ich mir zu guter Letzt ein selig Stündlein (BWV.502) - 4 Schemelli Chorales
Bernarda Fink (mezzo soprano) , Marco Fink (bass baritone) , Domen Marincic (gamba), Dalibor Miklavcic (organ)
5:30 AM
Green, Maurice (1695-1755) & Boyce, William (1711-1779)
Suite for two trumpets and organ
Ivan Hadliyski & Roman Hajiyski (trumpets), Velin Iliev (organ)
5:40 AM
Moniuszko, Stanislaw (1819-1872)
Overture to Paria - an opera in 3 Acts
National Polish Radio Symphony Orchestra, Antoni Wit (conductor)
5:50 AM
Chausson, Ernest (1855-1899)
Chanson perpétuelle
Lena Hoel (soprano), Bengt Åke-Lundin (piano), Yggdrasil String Quartet - Henrik Peterson & Per Öman (violin), Robert Westlund (viola), Per Nyström
5:59 AM
Beethoven, Ludwig van (1770-1827)
7 variations on 'God save the King' in C major (WoO.78)
Theo Bruins (piano)
6:07 AM
Brahms, Johannes (1833-1897)
Trio for piano and strings No.3 in C minor (Op.101)
Tamas Major (violin), Peter Szabo (cello), Zoltán Kocsis (piano)
6:25 AM
Bach, Johann Sebastian (1685-1750)
Sonata for viola da gamba and keyboard No.3 in G minor, (BWV.1029)
Lars Anders Tomter (viola), Leif Ove Andsnes (piano)
6:39 AM
Ibert, Jacques (1890-1962)
Flute Concerto
Yuri Shut'ko (flute), Ukrainian National Radio Symphony Orchestra, Vyacheslav Blinov (conductor).