Main content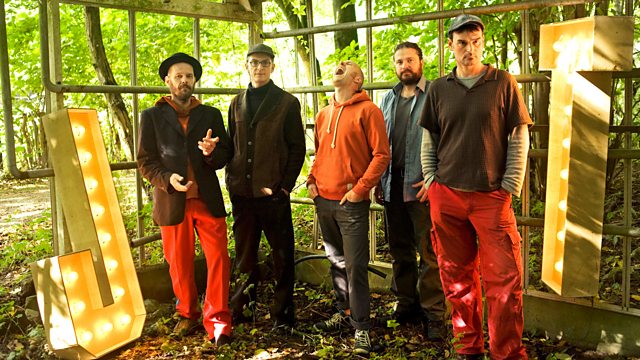 Jaune Toujours in session, plus Commonwealth Connections 17
Lopa Kothari presents a session from Belgian cult band Jaune Toujours, Commonwealth Connections from New Zealand and a Heritage Track from Guyana.
Lopa Kothari with our Commonwealth Connections series, including a location feature from New Zealand and our Heritage Track from Guyana, also a session with band Jaune Toujours, plus new world music releases from around the globe. Jaune Toujours photo by Alex Vanhee
New Zealand
Whiri Tu Aka are a 5-piece all-female Maori a cappella group founded by producer/vocalist Mina Ripa. Best known for her work in the field of electronica and dance music, this project was inspired by the birth of Mina's son to create music using only 'the power of the voice'. We hear a performance by the band recorded at a special event on Waitangi Day (February 6th) at a waterfront concert in Wellington. On this day in 1840 the country's founding document, the Treaty of Waitangi was signed granting Maori people ownership of their lands and properties giving them the same rights as British subjects. The programme also features a unique collaboration with members of Whiri Tu Aka and Horomona Horo a practitioner of 'taonga puoro', the collective term given to a wide array of Maori instruments, recorded on the shores of Titahi Bay, Porirua in the North Island of New Zealand.
Heritage Track - Guyana
Writer and academic David Dabydeen is currently Guyana's ambassador to China. His Heritage Track is the calypso Not a Blade of Grass by Dave Martins and the Tradewinds. For David the song prompts thoughts of Guyana's evolving relationship with Britain since independence in 1966, and of the opportunity for the Guyanese to renew their self-image and own their heritage.
Session - Jaune Toujours
In our studio, this Belgian cult band with its irrepressible sound, a mix of accordion, wind instruments, percussion and voice, exploring contemporary issues with strong social and cultural undertones.
Seven pioneering figures in world music
BBC Introducing on World on 3