Main content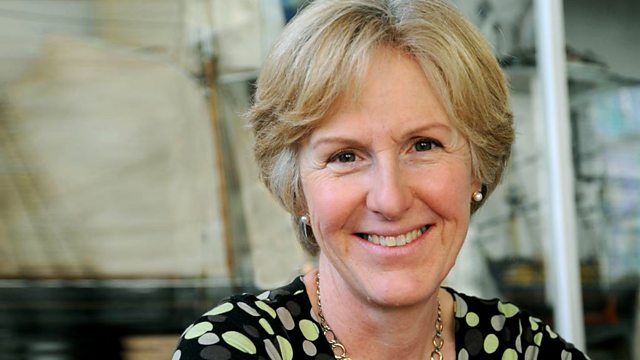 Proms 2013: Imogen Cooper and Paul Lewis
Catriona Young presents a concert from the 2013 BBC Proms, with pianists Imogen Cooper and Paul Lewis performing Schubert.
Catriona Young presents a concert from the 2013 BBC Proms: pianists Imogen Cooper and Paul Lewis performing Schubert.
12:31 AM
Schubert, Franz [1797-1828]
Sonata in C minor D.958 for piano
Imogen Cooper (piano)
1:05 AM
Schubert, Franz [1797-1828]
Sonata in C major D.812 (Grand duo) for piano duet
Imogen Cooper (piano), Paul Lewis (piano)
1:50 AM
Hummel, Johann Nepomuk (1778-1837)
Piano Quintet in E flat major/minor (Op.87) (1825)
Tobias Ringborg (violin), Ingegard Kierkegaard (viola), John Ehde (cello), Håkan Ehrén (double bass), Stefan Lindgren (piano)
2:10 AM
Beethoven, Ludwig van (1770-1827)
Sonata for violin and piano (Op.23) in A minor
Dina Schneiderman (violin), Milena Mollova (piano)
2:31 AM
Bach, Johann Sebastian (1685-1750)
Oster-oratorio (BWV.249)
Susanne Rydén & Tone M. Wik (sopranos), Marianne Kielland (contralto), Andrew Carwood (tenor), Lars Johansson Brissman (bass), Norwegian Baroque Orchestra, Joshua Rifkin (conductor)
3:12 AM
Converse, Frederick [1871-1940]
Festival of Pan, Op.9
BBC Concert Orchestra, Keith Lockhart (conductor)
3:30 AM
Schumann, Robert (1810-1856)
Gesänge der Frühe (Chants de l'Aube) (Op.133) - 5 pieces for piano dedicated to the poet Bettina Brentano
Sylviane Deferne (piano)
3:45 AM
Grieg, Edvard (1843-1907)
Symphonic dance no.2 (Allegro grazioso) (Op.64 No.2)
Norwegian Radio Orchestra, Ingar Bergby (conductor)
3:52 AM
Chopin, Fryderyk (1810-1849)
Prelude for piano (Op.45) in C sharp minor
Cedric Tiberghien (piano)
3:58 AM
Vivaldi, Antonio [1678-1741]
Concerto in C major, RV.444 for recorder, strings & continuo
Il Giardino Armonico, Giovanni Antonini (recorder)
4:07 AM
Kraus, Joseph Martin (1756-1792)
String Quartet No.2 in B flat major
Lysell String Quartet: Bernt Lysell (violin), Per Sandklef (violin), Thomas Sundkvist (viola), Mikael Sjögren (cello)
4:22 AM
Pezel, Johann Christoph (1639-1694)
Four Intradas
Hungarian Brass Ensemble
4:31 AM
Bernat Vivancos [b.1973]
Obriu-me els llavis, Senyor (Psalm 51 - Miserere)
Latvian Radio Choir, Sigvards Klava (conductor)
4:46 AM
Messiaen, Olivier (1908-1992)
Theme and Variations
Peter Oundjian (violin), William Tritt (piano)
4:55 AM
Couperin, François (1668-1733)
Treizième concert à deux violes - from 'Les Gouts réunis ou Nouveaux Concerts, Paris 1724'
Violes Esgales: Susie Napper, Margaret Little (viols)
5:06 AM
Fischer, Johann Caspar Ferdinand (c.1670-1746)
Euterpe (Suite in F major) - from Musikalischer Parnassus (1738)
Leen de Broekert (organ)
5:17 AM
Mahler, Gustav [1860-1911]; arranged by Schoenberg, Arnold [1860-1911]
Lieder eines fahrenden Gesellen Lieder eines fahrenden Gesellen vers. for voice & orch.
Urszula Kryger (Mezzo Soprano), Kwartesencja Ensemble: Marcin Kaminski (flute), Adrian Janda (clarinet), Bartosz Jakubczak (harmonium), Bartlomiej Zajkowski (piano), Tomasz Januchta (double bass), Hubert Zemler (percussion), Monika Wolinska (director)
5:35 AM
Britten, Benjamin (1913-1976)
Hymn to St Cecilia for chorus (Op.27)
BBC Singers, David Hill (conductor) - recorded at the BBC Proms, 3 Sept 2007 (Prom 67)
5:46 AM
Boccherini, Luigi (1743-1805)
Cello Concerto no.6 in D major (G.479)
Mstislav Rostropovich (cello), Rotterdam Philharmonic Orchestra, James Conlon (conductor)
6:03 AM
Françaix, Jean (1912-1997)
Gai Paris for wind ensemble
The Wind Ensemble of the Hungarian Radio Orchestra
6:14 AM
Copland, Aaron (1900-1990)
Danzon Cubano version for 2 pianos
Aglika Genova (piano), Liuben Dimitrov (piano)
6:20 AM
Gershwin, George (1898-1937)
Lullaby - for string quartet
New Stenhammar String Quartet - Peter Olofsson (violin), Laura Park (violin), Tony Bauer (viola), Mats Olofsson (cello).