Main content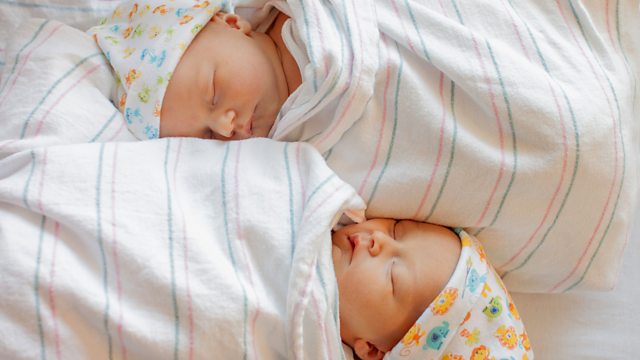 Twins; teenage etiquette 1950s style
Double trouble, as Jenni Murray hears from two mothers about coping with twins twice over. Plus, the 15-year-old who followed a 1950s book on teenage etiquette for a year.
BBC drama Happy Valley, written by Sally Wainwright, is a provocative piece of work, but has its depiction of violence against women gone to far.
When Victoria Bateman, a Cambridge Don, commissioned a naked portrait of herself she hoped it would challenge the notion that an image of a naked woman is invariably about sex. Her stance essentially follows a long line of feminist protest campaigns which have sought to empower women by giving new meaning to the nude female as a political tool instead of a sex object. But can female nudity ever escape the scrutiny of the male gaze?
Since 1998, in El Salvador, abortion has not been allowed under any circumstance. Women who miscarry or give birth to a stillborn baby are sometimes suspected of inducing an abortion and a number of Salvadorian women who've suffered a miscarriage have been found guilty of 'aggravated homicide'. Last month, women's groups in El Salvador joined together to campaign for the release of 17 women who've been imprisoned on the charge.
15-year-old Maya Van Wagenen, says that she was a "geek" at school and found it hard to fit in and make friends. But when her father gave her 1950's book on teenage etiquette, she decided to follow its advice for a year and write a memoir about her experience. Maya joins Jenni Murray to explain how it proved to be the key to her social success.
The birth of a child is one of the most joyous occasions so the arrival of twins is cause for a double celebration. Roger Federer's wife, Mirka, recently gave birth to the couple's SECOND set of twins. But when the congratulations die down, and the nappies start to pile up, what's the reality of having twins twice? Two mothers share their family's story.
Last on

Chapters
Violence Against Women in Drama

Sally Wainwright and Nicola Schindler join Jenni to discuss.

Duration: 10:11

The Naked Feminist

Victoria Bateman joins Jenni to discuss.

Duration: 09:20

Miscarriage in El Salvador

Jenni is joined by freelance journalist Nina Lakhani.

Duration: 05:59

Maya Van Wagenen

On her book Popular: Vintage Wisdom for a Modern Geek.

Duration: 08:14

Twins; Not Once but Twice

Two mothers, Julie Dalgetty and Alison Benton, share their stories with Jenni.

Duration: 07:43

Twins; Not Once But Twice

A second set of twins,  born to tennis champion Roger Federer and his wife Mirka earlier this month, has provided one of the best feel-good stories so far this  year. The news that  Federer's girl twins had been joined by boy baby twins, Leo and Lenny,  spread chuckles throughout the tennis world and beyond.  (As well as lots of jokes about all Federer mixed double matches at a future Wimbledon……). But when the congratulations die down,  and the nappies start to pile up, what's  the reality  of having twins twice?  Two mothers, Julie Dalgetty and Alison Benton, share their stories with  Jenni.

Maya Van Wagenen

Maya Van Wagenen, says that she was a "geek" at school and found it hard to fit in and make friends. Her father gave her a copy of The Guide to Teenage Popularity, written in the 1950s by a former beauty queen Betty Cornell.  Maya, 15, says her father found Cornell's book in a thrift shop, way before she was born. He held onto it for years because its outdated gems like 'Beautiful hair is about the most important thing a girl has,' made him smile. Though some of the advice seemed outdated, she decided to give some of the tips a go – and her book Popular: Vintage Wisdom for a Modern Geek (out later this month in the UK) is a diarised version of what happened when she did. She joins Jenni to talk about writing Popular.

The Naked Feminist

When Victoria Bateman a Cambridge Don commissioned a naked portrait of herself she hoped it would challenge the notion that an image of a naked woman is invariably about sex. The "female nude" can provoke embarrassment, shame and even sin.  Her stance essentially follows a long line of feminist protest campaigns which have sought to empower women by giving new meaning to the nude female as a political tool instead of a sex object.  But can female nudity ever escape the scrutiny of the male gaze?  Victoria Bateman joins Jenni to discuss whether posing naked really gives back to women ownership of their own bodies.

 

Miscarriage in El Salvador

Since 1998, El Salvador has not allowed abortion under any circumstance. This can mean that women who miscarry or give birth to a stillborn baby are sometimes suspected of inducing an abortion and since 2000, a number of Salvadorian women- who have suffered a miscarriage - have been found guilty of 'aggravated homicide'.  Last month, women's groups in El Salvador joined together to launch the 'We Are All the 17' campaign which is demanding the release of 17 women who have been imprisoned for having miscarriages. It is a campaign that is gaining momentum. To describe the situation in El Salvador, Jenni is joined by freelance journalist Nina Lakhani.

Violence against women in drama

BBC drama Happy Valley, written by Sally Wainwright, is a provocative piece of work, but has its depiction of violence against women gone too far. Sally Wainwright and the founder of Red Production Company Nicola Schindler join Jenni to discuss the issues.

Credit

| Role | Contributor |
| --- | --- |
| Presenter | Jenni Murray |

Broadcast