Main content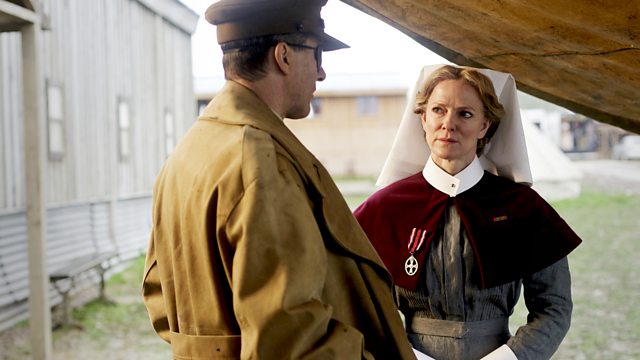 World War I drama series. A hostile patient forms a connection with Grace as she recalls her time in India, and Joan risks everything as she awaits a response from her fiance.
Colonel Ballard, an aggressively rude and war-scarred commander of a Sikh regiment, threatens trouble for Grace. It seems he would rather be with his men than at rest within the calm sanctuary of the wards, yet when Grace reveals knowledge of Punjabi and an upbringing in India the colonel is temporarily calmed. As Grace tries to discover what has made him so heated, another soldier, Private Gorman, seems focused on riling him further. Will Grace be able to unlock Ballard's secret before Gorman provokes him into a very dangerous game?
Flora has decided the volunteers should put on some entertainment, but as the pressure mounts, so do Flora's nerves. Meanwhile, Joan is still waiting for news from her fiance and Jaco calls her to an illicit meeting, sparking a series of events which will draw Joan into danger. How far will love push her to go, and at what risk to her profession and even her life?
Credits
| Role | Contributor |
| --- | --- |
| Sister Joan Livesey | Suranne Jones |
| Kitty Trevelyan | Oona Chaplin |
| Matron Grace Carter | Hermione Norris |
| Lt Colonel Roland Brett | Kevin Doyle |
| Jaco Tillens | Daniel Betts |
| Mathilde Tillens | Abigail Eames |
| Major Jocelyn Ballard | Peter Sullivan |
| Corporal Peter Foley | Jack Gordon |
| Private Benny Gorman | Jason Maza |
| Rosalie Berwick | Marianne Oldham |
| Flora Marshall | Alice St Clair |
| Captain Miles Hesketh-Thorne | Alex Wyndham |
| Captain Thomas Gillan | Richard Rankin |
| QMS Reggie Soper | Jeremy Swift |
| Anton Erhlich | Stephan Luca |
| Producer | Ann Tricklebank |
| Director | Thaddeus O'Sullivan |
| Writer | Sarah Phelps |