Main content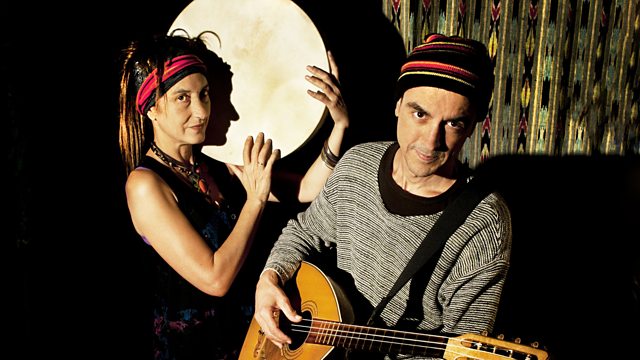 Kristi Stassinopoulou and Stathis Kalyviotis, Phil Stanton, Commonwealth Connections 15
Lopa Kothar presents live music from Kristi Stassinopoulou and Stathis Kalyviotis. Plus the 15th part of Commonwealth Connections, which features music from Dominica and Vanuatu.
Lopa Kothari introduces live music by Kristi Stassinopoulou and Stathis Kalyviotis, and talks to Phil Stanton who founded the Rough Guides label of world music compilations 20 years ago this year. This week's Commonwealth Connection is made in Dominica featuring the traditional Jing-ping style of music, and the Heritage Track is chosen by ping-pong champion Anolyn Lulu from Vanuatu.
LIVE SESSION:
Greekadelia is the latest album release of Kristi Stassinopoulou and Stathis Kalyviotis, and this innovative pair perform electro-acoustic arrangements of traditional folk songs from Greece as well as their own compositions, using their traditional instruments, live looping techniques and story telling.
COMMONWEALTH CONNECTIONS FEATURE: DOMINICA
Music is a family affair in La Petite Souffriere, a tiny and remote village high in the hills of Dominica. Isma Alie still works as a farmer cultivating Bay Tree plantations for their oil but also happens to be the island's greatest accordion player. With his son James and grandson Jackson, he keeps alive the traditional Jing-ping music of Dominica for community dances and celebrations.
COMMONWEALTH CONNECTIONS HERITAGE TRACK: VANUATU
Vanuatu - which literally means freestanding - has only existed as an independent country since 1980, and before that it was known as the New Hebrides and run by Britain and France. This South Pacific archipelago consists of more than eighty islands and lies a thousand miles east of northern Australia, west of Fiji, and southeast of the Solomon Islands. It has a population of less than quarter of a million, but despite that has a strong reputation for table tennis, especially in the shape of Anolyn Lulu whose chosen song is "Freedom" by Vanuatu's Vanessa Quai, as she explained from her island home.
Seven pioneering figures in world music
BBC Introducing on World on 3