Main content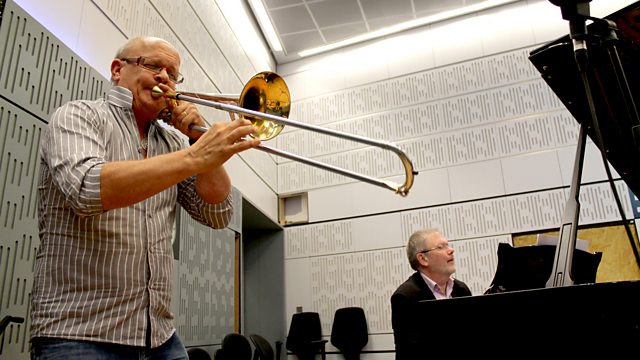 Nelson Goerner, Christian Lindberg, Emil Jonason, Dorothee Oberlinger, Peter Kofler
Sean Rafferty with live music from pianist Nelson Goerner, trombonist Christian Lindberg with clarinettist Emil Jonason and recorder player Dorothee Oberlinger.
Sean Raffety's guests include acclaimed pianist Nelson Goerner, plus virtuoso trombone player and composer Christian Lindberg with equally enterprising clarinettist Emil Jonason.
There's live music from recorder player Dorothee Oberlinger and harpsichordist Peter Kofler ahead of their recital at the 2014 Lufthansa Festival of Baroque Music in London.
Plus we drop in on the preparations in Glyndebourne for this year's season opener, Strauss' Der Rosenkavalier - Sean talks to two of the opera's young stars.
Main headlines are at 5pm and 6pm.
In.Tune@bbc.co.uk
@BBCInTune.
Last on
Music Played
Joseph Haydn

The Creation [Die Schopfung] H.21.2

Performer: Andrew Staples. Performer: David Stout. Performer: Ida Falk Winland. Performer: Musica Saeculorum. Performer: Philipp von Steinaecker.

Antonio Vivaldi

Concerto in B flat major RV.504 for bassoon and orchestra

Conductor: Dorothea Seel. Performer: Katrin Lazar. Performer: Munich Baroque Soloists.

Hanssler Classic.
CD-98.034.

Christian Lindberg

Clarinet Concerto "The Erratic Dreams of Mr Grönstedt" - mvt 1

Performer: Emil Jonason.

Leopold Mozart

Concerto in G major for trombone and orchestra

Performer: Bjorn Gafvert. Performer: Christian Lindberg.

Richard Strauss

Don Quixote Op.35

Conductor: Richard Strauss. Performer: Oswald Uhl. Performer: Bavarian State Orchestra.

Richard Strauss

Der Rosenkavalier - opera in 3 acts Op.59 [1909-10]

Conductor: Georg Solti. Performer: Vienna Philharmonic Orchestra.

Bruno Canino

&

Cathy Berberian

Ticket to Ride

Music Arranger: N/A.

Georg Philipp Telemann

Sonata no. 3 in E minor TWV.41:e2 for violin/flute and continuo - 1728 [Sonate metodiche]

Performer: Dorothee Oberlinger. Performer: Peter Kofler.

Gottfried (Godfrey) Finger

Ground [unidentified] for recorder and theorbo [as on SLN16/044Q818]

Performer: Dorothee Oberlinger. Performer: Peter Kofler.

Arcangelo Corelli

Sonata in C major Op.5`3 for violin and continuo

Conductor: Manuel Cordes. Performer: Dorothee Oberlinger.

Moritz Landgraf Von Hessen

Komm heyliger Geist Herre Gott

Conductor: Manuel Cordes. Performer: Weser-Renaissance Bremen.

Trad.

Jing-Ping Dance

Performer: Isma Alie, James Alie and Jackson Alie.

Johannes Brahms

7 Fantasies Op.116 for piano

Performer: Nelson Goerner.

Charles Koechlin

Sonata Op.70 for horn and piano

Performer: David Pyatt. Performer: Martin Jones.

Edward Elgar

The Dream of Gerontius Op.38

Conductor: Sir Mark Elder. Performer: Alice Coote. Performer: Hallé.

Sergey Rachmaninov

10 Preludes Op.23 for piano

Performer: Nelson Goerner.

Ignacy Jan Paderewski

Nocturne in B flat major Op.16`4 for piano

Performer: Nelson Goerner.

Vincenzo Bellini

Vanne, o rosa fortunata - arietta for voice and piano [no.2 of "6 ariette da camera"]

Performer: James Vaughan. Performer: Pretty Yende.
Broadcast