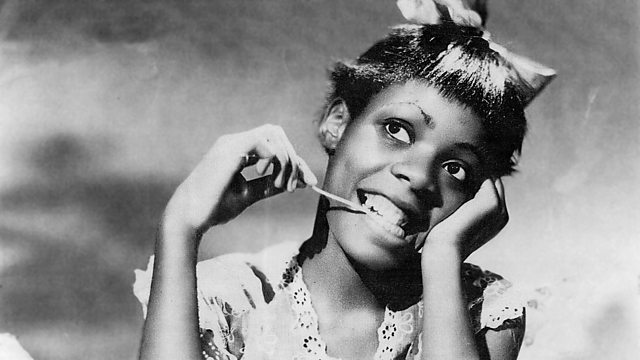 Try a Little Tenderness: The Lost Legacy of Little Miss Cornshucks
Try A Little Tenderness: The Lost Legacy of Little Miss Cornshucks
Chicago. It's the late 1930's and a young Mildred Cummings from Dayton, Ohio is barefoot, standing in the spotlight on stage, wearing that same old shabby dress and a broken straw hat. This is Little Miss Cornshucks and she has the audience in the palm of her hand, a unique act and larger than life personality. By the 1940's she made top-billing at nightclubs across America, performing heartbreaking ballads. The great Ahmet Ertegun of Atlantic Records, the man who pioneered the rhythm and blues said "She could sing the blues better than anybody I've ever heard."
But who remembers her now?
Author and poet Salena Godden invites you to join her in downtown Chicago as she goes in search of the missing legacy of Little Miss Cornshucks, the best blues singer you never heard.
She meets unofficial biographer Barry Mazor, who spent years tracing her tale. 98-year old former dancer Lester Goodman remembers the 'black and tan' nightspots that Cornshucks commanded, now long-gone. And taking a road trip on Route 65 to Indianapolis, Salena visits the home of Mildred's family, her daughter Francey and grand-daughter Tonya, filled with pictures, music and memories.
Why did this unique voice, that could so easily lift or reduce an audience to laughter and tears, die in complete obscurity, with her influence unmarked and unrecognised?
The song 'Try A Little Tenderness' became a powerhouse hit for both Aretha Franklin and Otis Redding. With musicologists, Cerys Matthews and Russell Davies, Salena invites us to take a moment to listen back to the inimitable Little Miss Cornshucks earlier version, to make the case for a lost legend of blues.
Produced by Rebecca Maxted.
A Wise Buddah Production for BBC Radio 4.
A visual accompaniment to Salena Godden's love letter to Little Miss Cornshucks.

Tracey McLeod recalls the girl groups of the 1960s.

Mark Lamarr explores the life of blues woman Memphis Minnie.