Main content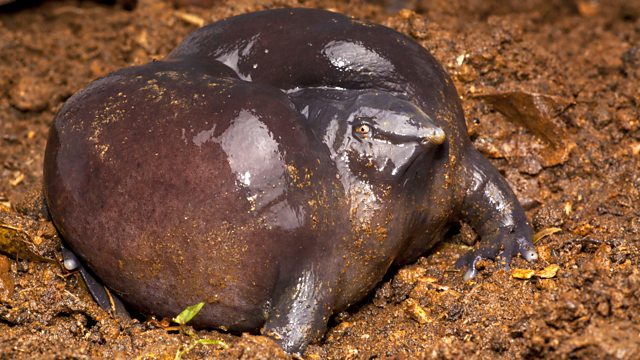 Bill Bailey introduces a delightfully eccentric cast of creatures that do things differently; unconventional and unusual, these animals turn oddness into opportunity.
Bill Bailey introduces a delightfully eccentric cast of creatures that have chosen to do things differently. Odd, unconventional and unusual - these are animals that don't normally grab the limelight. They include the parrot that has forgotten how to fly, the bear that has turned vegetarian, a chameleon that is barely bigger than an ant, and a penguin that lives in a forest. Nature's Misfits reveals the extraordinary and rarely seen lives of these evolutionary oddballs along with their strange habitats, unusual forms and the incredible hurdles they overcome.
Making Music for Misfits - by composer Brollyman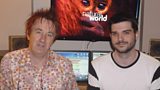 The central musical idea behind the show was to create a sense of character or environment for each animal, rather than create an overarching style that would encompass everything. The music could reflect the slowness of the sloth, the cold and fragility of the arctic or the clumsiness of the kakapo.
The music was composed at the same time as the film was being edited. I would work up a rough musical idea for a sequence and send it over to Producer, Gavin Boyland, who would provide comments. We were able to experiment and refine the tracks as we went along.
Once all the music was agreed, it was musician time. We were keen to use as many live instruments as possible to create a distinct tone for the film and I'm very lucky to be able to work with a small group from the National Orchestra of Wales. I call them 'Team Brolly' and it was their performances that really brought this score to life.
First we recorded Hywel on ukelele, Sovra on violin and Jofridur, from Iceland, on vocals, via internet sessions. We then spent two days in the studio with four lovely musicians: Eva on piccolo, flute and alto flute; David on clarinet and bass clarinet - essential for sloths; another David on bassoon; and Katharine on the cello.
It's a real privilege to work with musicians as their emotion feeds into the score, something that you can't do with a computer. We had a lot of fun pretending to be parrots and big headed mole rats.
Once all the parts were recorded the next step was the mixing. A few days are spent fine-tuning the different tracks, with music flying back and forth between my studio and the engineers. Once I was happy with each track they were ready for mastering.  Mastering is the final piece of the musical puzzle, the cherry on the icing on the cake!
So there you have it, I spent five weeks writing music to some wonderful pictures, being part of a great team and working with a top bunch of musicians and engineers. Life doesn't get any better than that.
Brolly xx
Credits
| Role | Contributor |
| --- | --- |
| Narrator | Bill Bailey |
| Writer | Gavin Boyland |
| Series Editor | Roger Webb |
| Producer | Gavin Boyland |