Main content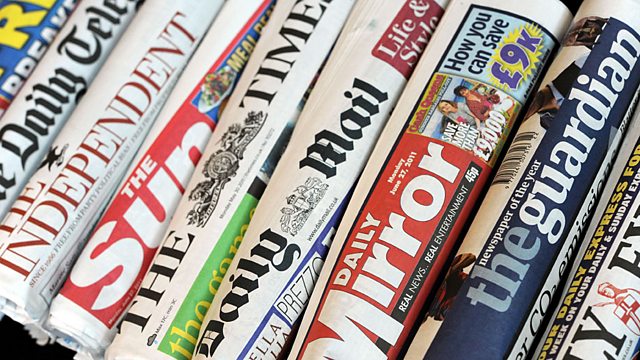 What should three newspaper-style leading articles say about the key stories of the moment? Andrew Rawnsley chairs a live discussion with top journalists as they debate the issues.
Andrew Rawnsley presents the second programme in a new series of the live, studio-based debate programmes which take the form of newspaper leader conferences.
He is joined by five prominent journalists, who write leading articles or editorials for their newspapers, representing the press in the nations of the UK and across the English regions as well as the leading national newspapers.
Three subjects in the news will be decided upon and discussed. Two of these reflect current events at home and abroad - and prompt lively and provocative discussion. The third subject is in a lighter vein.
Contributions from listeners are also encouraged throughout the programme and particularly at the start for the component they shape most: that final leader which is heard towards the end of the programme.
Following the discussion of each of the three subjects, Andrew invites one of his guests to draw up on air the "leader" for that subject setting out its main points. This important component of the programme helps ensure that resolution of the debate is achieved for listeners and that the full range of views expressed is reflected.
The leaders are posted online at the Radio 4 website following the programme.
Producer Simon Coates.
More houses please: Confronting Moscow: and hoorah for Russell Brand
In the second edition of the new series of Leader Conference, Andrew Rawnsley was joined by Emma Duncan of the Economist; Torcuil Crichton of the Daily Record; Lisa Markwell of the Independent on Sunday; Sonia Sodha who has written for The Observer; and Daniel Wainwright of the Wolverhampton Express & Star. 
We debated: housing policy; President Putin's political stance; and Russell Brand on the English A-level syllabus.
Through the Roof 
For the second time in less than a decade, parts of the property market are manifestly overheating. Surveyors warn of "panic buying" to avoid house price rises in London, but also in other property hot spots across the United Kingdom.     
The coalition's anxiety to boost the housing market was understandable as the economy languished. But its flagship Help to Buy scheme is now in danger of creating major distortions. As the OECD ― the rich countries' club ― makes clear, house prices significantly exceed long-term averages relative to rents and household incomes. A bubble in the property market runs the danger of taking the rest of the economy with it when it bursts. But we hear little from politicians about reform.
Unpopular though it will be, we advocate radical change to address this issue once and for all. First, we want to see Help to Buy end in those parts of the UK where prices have risen more than twice the rate of inflation. Secondly, we recommend that the Bank of England tightens the criteria for mortgage offers on house purchases. So-called intrusive controls introduced in recent weeks need to be rigorously enforced.
Next, supply. We need to build substantially more houses, notably in those areas where economic growth is strongest. Reforms to the planning rules have so far proved inadequate in increasing the amount of land available for development. Nimbyism must be confronted. A tiny minority enjoy a benefit while blighting the lives of many others. We therefore propose ending special privileges that prevent building on green field land. This isn't to neglect new building on brown field sites, but large plots tend to be scarce. So we agree with proposals for a legally-enforceable duty on developers to build on land they own or forfeit it, perhaps with grants for especially valuable projects. We favour developments that have a good social mix of ownership, and transport links planned from the outset rather than tagged on as an afterthought.
These measures would be a bold but necessary start to the desperately needed overhaul of Britain's malfunctioning residential property market.  
The Bear Blinks?
Having deliberately and irresponsibly ratcheted up pressure on Ukraine in recent days, the Kremlin may now have had second thoughts. President Vladimir Putin claims that Russian troops have withdrawn from the border. He adds that Ukraine's forthcoming presidential election is "a step forward".  
Nato Secretary General Anders Fogh Rasmussen could detect no immediate evidence of a Russian departure. And on the political front President Putin's concept of democracy remains qualified, contingent and compromised. His concrete achievement to date has been the unlawful annexation of Crimea ― which has been condemned around the world. The Russian economy, meanwhile, is looking sicklier, its chronic dependence on oil and gas deepening as its stunted manufacturing and service sectors are weighed down by endemic corruption. Recession is now an admitted reality, deepened by what may prove to be unexpectedly effective Western sanctions. All this weighs heavily with the Kremlin which mixes politics and business to the point where the two can barely be distinguished.    
President Putin is, unfortunately, a known dissimulator. Even if his conciliatory gestures are genuine, few will treat them as such until he backs words by deeds. He has no real policy towards Ukraine except the desire to determine the country's future. Until he makes clear that he has stepped away from that objective, the prudent course for Britain and other Western countries would be to remain resolute while welcoming any signs of a re-think. That may still entail preparing for further sanctions that hit the core commodities sector directly―and with it Western companies. President Putin may be recognising the need for Russia to recalibrate. But there is no proof of that yet.
Brand is part of the canon   
"I don't think there needs to be a carrot or a stick. Both of those things are like bizarre metaphors. What there needs to be is love and compassion for everybody involved. If people are committing criminal behaviour then it needs to be dealt with legally, but you need to offer them treatment, not simply out of some airy fairy, "Let's hold hands and hug" liberalism, but because it deals with the problem and it prevents further crimes being committed."
So said Mr. Russell Brand before the Home Affairs Select Committee two years ago. He spoke from first-hand experience but he also clearly knows a bizarre metaphor or two when he hears them.  Good for him.  And it could be two for the price of one for future A-level students if the Oxford, Cambridge and Royal Society of Art (OCR) examinations board has its way. It proposes a new A-level syllabus that ranges from Emily Dickinson's poetry to Mr. Brand's evidence on drugs policy. Its plan is refreshing and innovative. It awaits accreditation by the exam regulator, Ofqual, but we look forward to its endorsement.
We regret, however, the cautious and critical view of the proposal which appears to have emanated from anonymous sources in the Department for Education. The skills required properly to analyse poetry and prose, to discern meaning, to discover strengths and weaknesses of argument and to detect motivation are universal ones which can be equally well applied to I Am a Secret Footballer as to Nicholas Nickleby. We recall that both those eponymous characters knew about love and compassion and criminal behaviour―and, like Mr. Brand, disliked carrots and sticks.
OCR's imaginative initiative is a response to the Secretary of State for Education's wish to see A-level papers test pupils' creative abilities and their thinking skills more searchingly. We support that aim―and the continuing search for bizarre metaphors.