Main content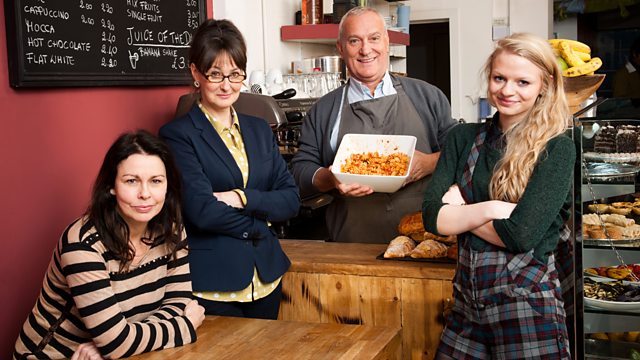 Trisha has an unexpected visitor, while Clare decorates with a vengeance. Are they both just papering over the cracks? Stars Hilary Lyon. From May 2014.
Episode 5. A Paler Shade of White
In episode 5, the penultimate part of Hilary Lyon's comedy narrative series ' Secrets and Lattes', normally laid-back Trisha, (Julie Graham) is wrong-footed when she comes face to face with a very unexpected visitor whilst Clare (played by Hilary Lyon) drives herself (and everybody else for that matter) mad with her obsessive decorating, induced by her increasing anxiety about her husband's uncharacteristic behaviour. It would appear that even though their new Edinburgh cafe business is growing, one sister's life is definitely unravelling while the other's may be starting to knit together again, so long as she can keep her head.............
Meanwhile temperamental opera-loving Polish chef, Krzysztof ( Simon Goodall) doesn't know whether he is coming or going with Trisha and is being driven to distraction (and drink) whilst whacky teenage waitress, Lizzie ( Pearl Appleby) is unusually subdued and secretive after a rubbish night out. Is the 'Cafe Culture' makeover really going to make a difference or are they all just, in their own ways, painting over the literal and metaphorical cracks?
Director..................................Marilyn Imrie
Producers....Moray Hunter and Gordon Kennedy
An Absolute production for BBC Radio 4.
Credits
| Role | Contributor |
| --- | --- |
| Trish | Julie Graham |
| Clare | Hilary Lyon |
| Krzysztof | Simon Greenall |
| Lizzie | Pearl Appleby |
| Struan | Duncan Duff |
| Richard | Roger May |
| Minty | Marilyn Imrie |
| Producer | Marilyn Imrie |
| Writer | Hilary Lyon |