Main content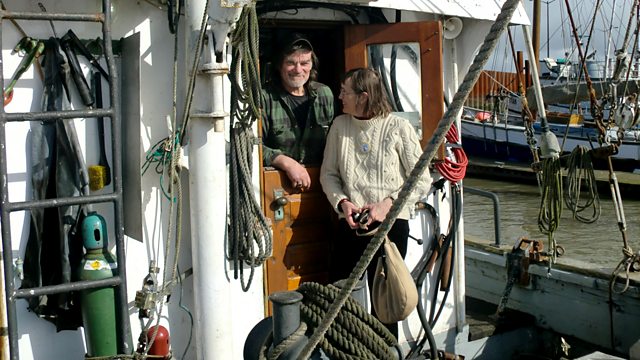 The Fisher Poets Gathering
Katrina Porteous visits Astoria, Oregon, where each February commercial fishermen and women gather for a festival of poems, songs and stories they have written about their lives.
Katrina Porteous visits the fishing port and cannery town of Astoria, Oregon, to report on, and take part in the Fisher Poets Gathering.
Years ago Jon Broderick, who fishes for salmon in Alaska, visited the famous gathering of cowboy poets in Elko, Nevada. Jon knew, not least from listening to radio traffic between boats on the fishing grounds, that fishermen and women, too, celebrated their way of life, complained about their lot, and sent each other up in verse, song and stories. So, with his friend Jay Speakman he organised the first Fisher Poets Gathering, in Astoria, at the mouth of the Columbia River in Oregon.
That was 17 years ago; now for a weekend every February (when the fishing is quiet) fisher poets come from all over America - Florida, Maine, Chesapeake Bay, Alaska. These tough characters, who all know someone who has drowned, stand up and, unembarrassed, completely naturally, read their poems. Hundreds listen: there are sessions in bars and readings all over town. There are workshops, exhibitions, and the community radio station broadcasts proceedings, live.
This year, for the first time, a poet came from beyond the United States. Katrina Porteous lives in the Northumbrian fishing village of Beadnell. For years she has worked with, recorded and written about fishing people there.
She hears astonishing work: from Dave Densmore, on his boat Cold Stream; from Moe Bowstern, an extraordinarily prolific writer about the lives of fisher women; from Richard King who fishes in Alaska, and farms in Hawaii. She meets, too, Lloyd Montgomery, an Aleut fisher poet. And wherever they are from, Katrina discovers, fisher poets share concerns over sustainability - of fish stocks, their communities, their way of life.
Last on

Broadcasts

Featured in...
Weird words and marginalia from fisher poets and hepcats. A Seriously... collection.