Main content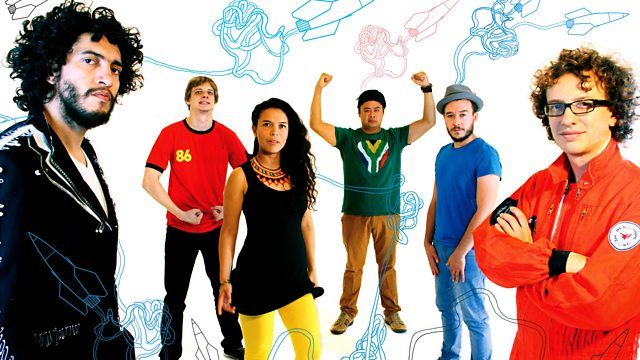 La Chiva Gantiva in Session, Commonwealth Connections 14
Lopa Kothari presents a session with La Chiva Gantiva and the 14th part of Commonwealth Connections, which features music from Malta and the Gambia.
Lopa Kothari presents a session with La Chiva Gantiva and Commonwealth Connections from Malta and The Gambia.
COMMONWEALTH CONECTIONS MUSIC FEATURE: MALTA
Malta's history reads like a Dan Brown novel and the music that has been recorded for this week's feature is infused with Malta's wonderfully diverse historical influences. Musician and composer, Ruben Zahra, takes us on a guided tour of traditional Maltese instruments that span the centuries: from the iz-Zummara, a Maltese reed flute fashioned by children as a toy, to the impressive Maltese bagpipe or iz-Zaqq. Ruben's passion for these instruments, the music and the skills needed to play is helping to prevent their extinction, as happened with the Maltese Lira. This is the world's first studio recording of the Maltese Lira which was lost some 200 years ago but recreated using lithographs and paintings.
The tradition of working-class folk song is also being kept alive by the Maltese people in the wine bars of Zejtun. The 'Spirtu Pront' genre of folk song requires singers to verbally duel with improvised lyrics and it has been recorded live in the Ta' Ganna bar with six singers competing for their pride and superiority. They are accompanied by local musicians playing the unusual, horned, Maltese guitar.
HERITAGE FEATURE: THE GAMBIA
The Gambia is a relatively small slice of land in West Africa on the north and south shores of the river Gambia, and surrounded by Senegal. This week's Commonwealth athlete Suwaibou Sanneh currently lives away from his home town of Brikama studying in the States but he carries the country's music with him as he prepares for the 100 metres sprint, an event for which he holds the Gambian national record. A semi-finalist at the London Olympics, he aims to do even better at the Commonwealth Games in Glasgow. Music from Jaliba Kuyateh and The Kumareh Band
SESSION: LA CHIVA GANTIVA
La Chiva Gantiva are a group of young Colombian musicians who met in Brussels. Fuelled with a desire to get back to their roots, they started to combine Colombian rhythms with rock, afrobeat and funk. Their new album 'Vivo' is out now on Crammed Discs. We catch them as they are about to embark on their UK tour.