Main content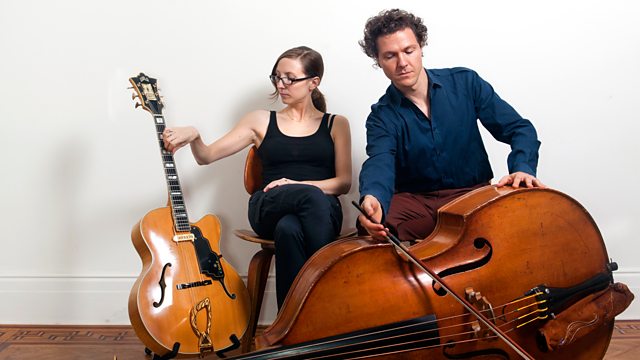 Secret Keeper Session
Jez Nelson presents an exclusive studio session performed by bassist Stephan Crump and guitarist Mary Halvorson as Secret Keeper.
Bassist Stephan Crump and guitarist Mary Halvorson perform in an exclusive studio session for Jazz on 3, as Secret Keeper.
For those who know Crump from his work with Rosetta Trio - featured on the programme a few weeks ago - this performance highlights a different and more exploratory side of the bassist's playing. Whilst his trademark warmth and bounce remains, here textures and melodies unfurl organically through a series of improvised narratives and spontaneous compositions. Halvorson's sound on guitar is truly unique - a beguiling approach to extended techniques is so fluid and well integrated, that rumbling detuned notes and the plink of bell-like effects seem a completely natural part of the landscape. Secret Keeper's enchanting and sensitive approach is an antidote to the brash blowing sessions and high-paced chaos sometimes associated with freely improvised music.
Presenter: Jez Nelson
Producer: Chris Elcombe.
Music Played
Jez Nelson, Kevin Le Gendre and Jon Newey share Jazzahead Festival discoveries

Secret Keeper in session at Strongroom Studios, London on 25 November 2013

Lauren Kinsella Trio in concert at Ronnie Scott's, London on 15 November 2013

Dylan Thomas Day: Stan Tracey archive live track from 'Under Milk Wood Suite'