Main content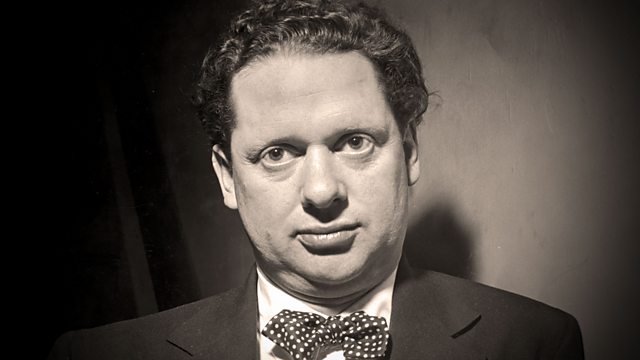 Dylan Thomas Out Loud
As part of Radio 3's celebration of Dylan Thomas's centenary, a special edition featuring his poetry and prose read by Catrin Stewart and Trystan Gravelle.
A special edition of Words and Music as part of Radio 3's Dylan Thomas centenary celebrations.
Often set against the background of his beloved South Wales, Thomas explored the big themes: childhood, religion, love and death. The programme includes many well-loved poems and stories, including: 'After the Funeral', 'Do Not Go Gentle', 'The ForceThat Through the Green Fuse Drives the Flower', 'Under Milk Wood', 'A Visit to Grandpa's' and 'A Story'. Thomas himself features, in a powerful archive recording of 'Lament'.
An evocative folk song arrangement from the Cory Band, a hymn from the Tywi Male Choir, and a stirring rendition of Land of My Fathers from Bryn Terfel further emphasise Thomas's roots. But although his Welsh identity is so fundamental, Thomas's work has universal resonance. Thus Thomas also rubs shoulders with the likes of Schubert, Debussy, Rachmaninov, Stravinsky, Ligeti, Steve Reich and Johnny Cash.
The newly commissioned readings are given by two of Britain's most exciting young actors, Catrin Stewart and Trystan Gravelle - both, like Thomas himself, from South Wales. Together they bring to life the texts in idiomatic and vibrant performances, showing Thomas to be a poet in the true bardic tradition, the full impact of whose work is best appreciated read out loud.
David Papp (producer).
Music Played
Timings (where shown) are from the start of the programme in hours and minutes
Dylan Thomas

Preface to The Poems of Dylan Thomas ("Notes on the Art of Poetry") [excerpt], read by Trystan Gravelle

Dylan Thomas

In my craft or sullen art, read by Trystan Gravelle

Dylan Thomas

Under Milk Wood [beginning], read by Catrin Stewart

Dylan Thomas

I dreamed my genesis in sweat of sleep, read by Trystan Gravelle

Dylan Thomas

A Prospect of the Sea [beginning], read by Trystan Gravelle

Dylan Thomas

Fern Hill, read by Catrin Stewart

Dylan Thomas

The Peaches [extract], read by Catrin Stewart

Dylan Thomas

Lament, read by Dylan Thomas (archive recording)

Dylan Thomas

A Visit to Grandpa''s [ending], read by Catrin Stewart

Dylan Thomas

After the funeral (in memory of Ann Jones), read by Trystan Gravelle

Dylan Thomas

Do not go gentle into that good night, read by Catrin Stewart

Dylan Thomas

This side of the truth (for Llewellyn), read by Trystan Gravelle

Dylan Thomas

The force that through the green fuse drives the flower, read by Trystan Gravelle

Dylan Thomas

A Story [ending], read by Catrin Stewart

Dylan Thomas

Reminiscences of Childhood [excerpt], read by Trystan Gravelle and Catrin Stewart

Producer's Note

'I could never have dreamt that there were such goings on between the covers of books… such staggering peace, such enormous laughter, such and so many blinding bright lights…words, words, words, and each of which was alive forever in its own delight and glory and oddity and light.'  Indeed! Dylan Thomas on the power of words is the starting point of this special all-Thomas edition of Words and Music. The 'goings on', both poetry and prose, span Thomas's career and are brought to life by Trystan Gravelle and Catrin Stewart.

 

Different sorts of darkness envelop 'In my craft or sullen art', the famous opening of 'Under Milk Wood', and 'I dreamed my genesis in sweat of sleep'. But an idealised sun then shines brightly on Thomas's childhood, in particular the fondly remembered summer holidays at his aunt Ann Jones's farm Fernhill.

 

With its blue sky, swaying golden corn, wet smell of rabbits and cattle after rain, the beginning of the short story 'A Prospect of the Sea' sets the scene of those eternal boyhood summers, continued in the evocative 'Fern Hill' where Thomas is 'green and carefree'.

 

In 'The Peaches', young Dylan is still at Fernhill, now listening to his cousin Gwylim practising preaching from the pulpit in his 'chapel', a dusty wagon in a barn. 'Thou canst see us in the gravy blackness… Thou canst see everything we do, in the night and day… Thou canst see all the time. O God, mun, you're like a bloody cat.' The voice of Thomas himself is next. In a richly comic reading, recorded in 1950s New York, 'Lament' is another satirical swipe at Welsh Nonconformity.

 

'A Visit to Grandpa's' is at once funny and touching. Dylan enlists the neighbours in a frantic search for his Grandpa who, while wearing his 'fancy waistcoat', is prey to noisy, weird dreams and a morbid obsession with the best place to be buried. An actual burial and the emotions it stirs are vividly portrayed in one of Thomas's great poems 'After the funeral (in memory of Ann Jones)', followed by the famous and impassioned 'Do not go gentle into that good night', inspired by his dying father.

 

 'This side of the truth', dedicated to Thomas's son Llewellyn, is life-affirming while

Nature, creative and destructive, is the theme of 'The force that through the green fuse drives the flower'.

 

Finally, we're back in the south Wales of Thomas's boyhood. 'A Story' describes a drunken all-male (of course) pub crawl which never reaches its intended destination, Porthcawl. And a radio talk 'Reminiscences of Childhood' is set in Swansea but ends with a flourish of magic realism. In front of his school friends, the bragging Dylan flaps his arms to soar above the city and the 'fine live people, the spirit of Wales itself.'

 

What of the music? I've simply tried to reflect the mood of the texts: nocturnal Schoenberg and George  Crumb; dream-like, still and then dramatic Schubert; Vaughan Williams's idyllic summer landscape; death-defying Johnny Cash. And, for a more specific sense of place, a male voice choir, an arrangement of 'Suo Gân', and last of all, 'Hen Wlad Fy Nhadau'.

 

David Papp (producer)

The hidden history of plant-based diets