Main content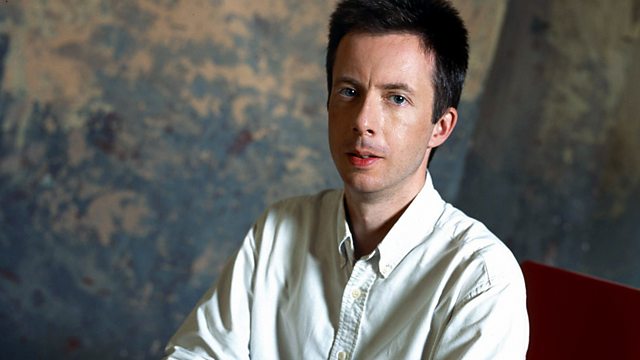 04/05/2014
John Shea's selection includes the Vienna Philharmonic under Bernard Haitink performing music Haydn and Strauss's Eine Alpensinfonie at the 2012 Proms.
BBC Proms 2012. The Vienna Philharmonic Orchestra conducted by Bernard Haitink. Programme includes Haydn and Richard Strauss's Eine Alpensinfonie. with John Shea
1:01 AM
Haydn, Joseph [1732-1809]
Symphony No.104 in D major H.1.104 (London)
Vienna Philharmonic Orchestra, Bernard Haitink (conductor)
1:30 AM
Strauss, Richard [1864-1949]
Eine Alpensinfonie Op.64
Vienna Philharmonic Orchestra, London Brass, Bernard Haitink (conductor) Leo McFall (off stage conductor)
2:23 AM
Strauss (ii), Johann [1825-1899]
Fruhlingsstimmen (Voices of spring) - waltz Op.410 for orchestra
Vienna Philharmonic Orchestra, Bernard Haitink (conductor)
2:31 AM
Mozart, Wolfgang Amadeus (1756-1791)
Piano Quartet in E flat major (K.493)
Tanja Zapolsky (piano), Den Unge Danske Strygekvartet (The Young Danish String Quartet)
3:01 AM
Milhaud, Darius (1892-1974)
La création du monde (Op.81)
Canadian Chamber Ensemble, Raffi Armenian (conductor)
3:20 AM
Brahms, Johannes (1833-1897)
Double concerto for violin and cello in A minor (Op.102)
Bartlomiej Niziol (violin), Adam Klocek (cello), Sinfonia Varsovia, Tomasz Bugaj (conductor)
3:54 AM
Rameau, Jean-Philippe (1683-1764)
Orchestral Suite from Dardanus
European Union Baroque Orchestra, Roy Goodman (director)
4:12 AM
Falla, Manuel de (1876-1946)
No.5 Nana; No.7 Polo; No.4 Jota - from Canciones populares espanolas
Moshe Hammer (violin), William Beauvais (guitar)
4:19 AM
Sibelius, Jean (1865-1957)
Serenade No.2 in G minor for violin and orchestra (Op.69b)
Judy Kang (violin), Orchestre Symphonique de Laval, Jean-François Rivest (conductor)
4:28 AM
Scarlatti, Domenico (1685-1757)
Sonata in D minor (Kk.9) 'Pastorale'; Sonata in B minor (Kk.27); Sonata in A major (Kk.322)
Arturo Benedetti Michelangeli (piano)
4:36 AM
Nielsen, Carl [1865-1931]
Overture to Maskarade (FS.39)
Bergen Philharmonic Orchestra, Leif Segerstam (conductor)
4:41 AM
Jongen, Joseph (1873-1953)
Allegro appassionato (Op.95, No.2) from 2 Pieces for Piano Trio
Grumiaux Trio
4:49 AM
Durante, Francesco (1684-1755)
Concerto per quartetto for strings No.3 in E flat major
Concerto Köln
5:01 AM
Lustig, Jacob Wilhelm (1706-1796)
Movements No.4 (Temps de Menuet) & No.5 (Promptement) - from Sonata No.5 in A minor
Stef Tuinstra (1808 Freytag organ of the Hervormde kerk, Finsterwolde)
5:08 AM
Kuula, Toivo (1883-1918)
The Bride Arrives - from South Ostrobothnian Suite No.2
Finnish Radio Symphony Orchestra, Jorma Panula (conductor)
5:13 AM
Schubert, Franz (1797-1828)
Rosamunde - Ballet Music no.2 (D.797)
Oslo Philharmonic Orchestra, Heinz Holliger (conductor)
5:20 AM
Mozart, Wolfgang Amadeus (1756-1791)
Fantasy in C minor (K.396)
Valdis Jancis (piano)
5:31 AM
Wagner, Richard (1813-1883)
Prelude and Act III Liebestod - from the opera Tristan and Isolde
BBC Philharmonic, Vassily Sinaisky (conductor)
5:49 AM
Melartin, Erkki (1875-1937)
Lohdutus (Consolation)
Finnish Radio Symphony Orchestra, Osmo Vänskä (conductor)
5:55 AM
Fauré, Gabriel (1845-1924)
Pavane for orchestra (Op.50)
BBC National Orchestra of Wales, Grant Llewellyn (Conductor)
6:02 AM
Prokofiev, Sergey (1891-1953)
Symphony No.1 in D major (Op.25), 'Classical'
Royal Concertgebouw Orchestra, Karel Ancerl (conductor)
6:16 AM
Tartini, Giuseppe (1692-1770)
Concerto for violin and orchestra (D.28) in D major
Stavanger Symphony Orchestra, Fabio Biondi (violin/conductor)
6:33 AM
Britten, Benjamin (1913-1976)
Variations on a Theme by Frank Bridge (Op.10)
The Royal Academy Soloists, Clio Gould (director).