Main content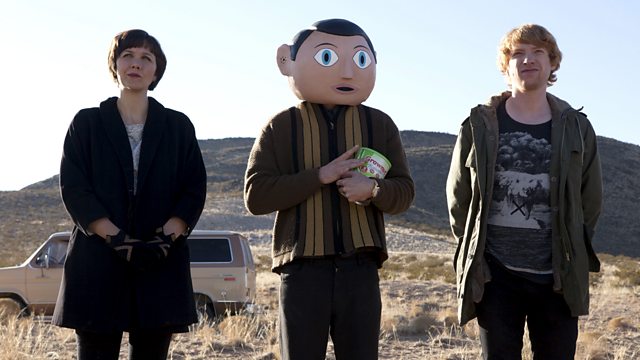 Jon Ronson; Julian Anderson; 24; Comics Unmasked
Matthew d'Ancona talks to Jon Ronson about the film Frank, reviews 24, speaks to Julian Anderson about his opera Thebans, and discusses Comics Unmasked at the British Library.
With Matthew d'Ancona
Jon Ronson discusses Frank - which he co-wrote with Peter Straughan (The Men Who Stare At Goats). The fictional film was inspired by Jon's experience of touring in Frank Sidebottom's cult band. Ronson talks about why he didn't make a biopic, his relationship with Sidebottom creator Chris Sievey; and working with Michael Fassbender, who plays Frank and wears a fake head for the majority of the film.
The multi Golden Globe and Emmy Award-winning series, 24, is about to return. Four years have passed and Kiefer Sutherland's Jack Bauer is now living in London and being hunted by the CIA. But then Jack learns of a threat to kill the US President during an official visit to the British Prime Minister, and decides he has to come out of hiding, to prevent it. Critic Sarah Crompton joins Matthew to assess how Jack fares this side of the Atlantic.
Award winning composer Julian Anderson talks about his new opera Thebans, based on Sophocles' tragedies.
From early Victorian pamphlets to the latest underground offerings, a new exhibition explores the world of British comics. It includes work by Neil Gaiman, Alan Moore and Posy Simmonds and a specially commissioned piece by Tank Girl artist Jamie Hewlett and looks at the way graphic novels have entertained, shocked, disturbed and amused readers for over two hundred years.
Producer Timothy Prosser.
Chapters
Jon Ronson

Duration: 10:11

24 reviewed by Sarah Crompton

Duration: 04:19

Comics Unmasked: Art and Anarchy in the UK

Duration: 04:41

Julien Anderson

Duration: 08:09

Jon Ronson

Jon Ronson

discusses Frank - which he co-wrote with Peter Straughan (The Men Who Stare At Goats). The fictional film was inspired by Jon's experience of touring in Frank Sidebottom's cult band.  Frank is released on 9 May, certificate 15.

24

The multi Golden Globe and Emmy Award-winning series, 24, is about to return. Critic Sarah Crompton joins Matthew to assess how Jack fares this side of the Atlantic.



Julian Anderson

Award winning composer Julian Anderson talks about his new opera Thebans, based on Sophocles' tragedies.  Thebans runs at the

English National Opera

, London from 3 May - 3 June 2014.

Comics Unmasked - Art and Anarchy in the UK.

From early Victorian pamphlets to the latest underground offerings, a new exhibition at the British Libary explores the world of British comics.  Comics Unmasked - Art and Anarchy in the UK runs at the

British Library

, London from 2 May to 19 August 2014.

Credits

| Role | Contributor |
| --- | --- |
| Presenter | Matthew d'Ancona |
| Interviewed Guest | Jon Ronson |
| Interviewed Guest | Sarah Crompton |
| Interviewed Guest | Julian Anderson |
| Producer | Timothy Prosser |