Main content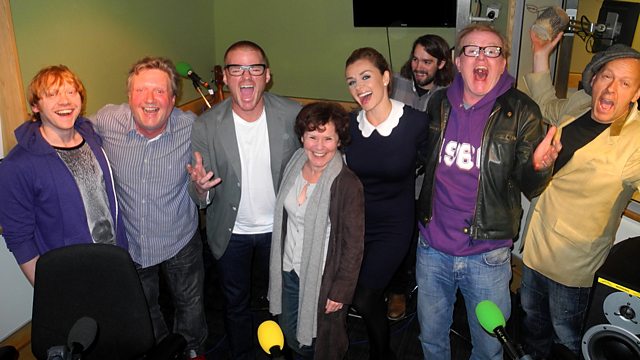 Heston Blumenthal, Imelda Staunton, Rupert Grint, Katherine Jenkins, Glenn Tilbrook
Chris gets that Friday feeling going with Heston Blumenthal, Imelda Staunton, Rupert Grint and Katherine Jenkins. Plus, Glenn Tilbrook performs live in the studio.
Last on
Clips

Music Played
Adam Ant

Goody Two Shoes

Wave Party (Various Artists).
Columbia.
15.

Sara Bareilles

Love Song

(CD Single).
Columbia.
1.

Chic

Good Times

The Last Days Of Disco (Film Soundtra.
Columbia.

Chromeo

Jealous (I Ain't With It)

Sammy Davis Jr.

Talk To The Animals

Sammy Davis Greatest Hits.
Curb.
1.

Ian Dury & The Blockheads

Hit Me With Your Rhythm Stick

Fantastic 70's (Various Artists).
Sony Tv/Columbia.

Embrace

Follow You Home

(CD Single).
Cooking Vinyl.
001.

Bryan Ferry

Let's Stick Together

Bryan Ferry/Roxy Music - Street Life.
Eg.

Gnarls Barkley

Crazy

(CD Single).
Warner Bros.

Norman Greenbaum

Spirit In The Sky

Million Sellers Vol.18 - The Seventie.
Disky.

Inspiral Carpets

This Is How It Feels

Michael Jackson

Love Never Felt So Good (feat. Justin Timberlake) (feat. Justin Timberlake)

Marcello Minerbi

Zorba's Dance

Sleepy Shores - Instrumental Classics.
Old Gold.

Kylie Minogue

I Was Gonna Cancel

(CD Single).
Parlophone.
003.

Pratt & McClain

Happy Days

Television's Greatest Hits Volume 3 70s & 80s.
Silva Screen Records Ltd.

B.J. Thomas

Raindrops Keep Falling On My Head

The Love Songs Of Burt Bacharach.
Polygram Tv.
Pause for Thought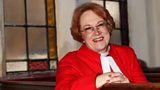 From Canon Ann Easter, Chief Executive of a Charity and Chaplain to the Queen:
I've got a big day tomorrow! His Grace the Archbishop of Canterbury wants to have his photo taken with me! Well, me and about 690 other women too, of course, cos we're the women who were made priests in the very first ordination services twenty years ago this year! And it just so happens that my ordination service was on April 30th, and then I celebrated Mass, the communion service, for the first time, the next day, May 1st. It was amazing! I wept most of the time – just couldn't believe it, then I accidentally set fire to the sanctuary carpet and tripped and threw red wine over the new linen altar cloth!
Tomorrow we'll have a picnic, a walk and a service to celebrate. (I'll bring the fire extinguisher…)
Hot on the heels of our ordination came The Vicar of Dibley – who many thought was based on me, but you know I couldn't cope with all that rural stuff – but certainly I felt that Geraldine Granger was more gutsy that any sitcom priest before or since – she talked human, as they say, and was down to earth and I think that's something women bring to the table – communion or otherwise! 
Where would we be without our strong women? Like Katherine Jenkins,  Imelda herself and the sort of characters she plays, like Vera Drake and Margi in Good People.  And of course there's Boadicea through Julian of Norwich (yes, she's a woman) to Mary Seacole and now Ann Maguire; each in her own way has brought divine gifts which have benefited humanity, demonstrated a credible but different way of being and shown us another aspect of God's face.
I saw how Church meetings became less blokish, somehow broader, more considerate and compassionate – more interesting, actually - once women became involved on a sort-of equal basis  - but I must just say that I wouldn't want to see only women priests, any more than I'd want to see only male chefs, it's the diversity and complementarity [is this a word?] that's fun.
I want my grandchildren, boys and girls, to have a wide variety of wonderful role models and to know that there's so much more to humanity than man.
Broadcast