Main content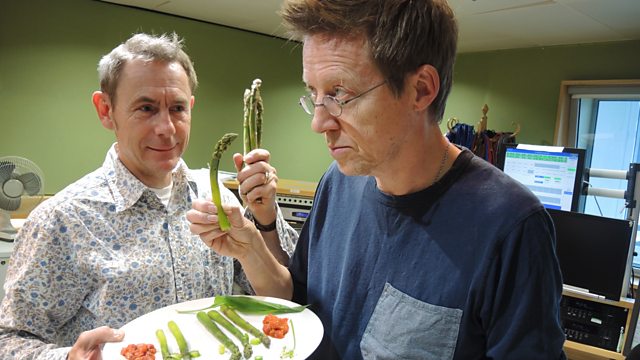 Nigel brings in a stew of Asparagus, Tomato and Bacon for Foody Thursday
Jeremy Paxman oldies, Maurice Hamilton on Ayrton Senna's legacy and an belated answer to our Homework question about the history of time.
Nigel cooked up another delicious dish (recipe below). Our Confession was a case of dragon duplicity.
Matt spoke to veteran journalist Maurice Hamilton about the legacy of Ayrton Senna. And Rebecca spoke to Roger Harding from Shelter about house price rises and Rahul Sharma about supermarket price cuts.
Rebecca won the quiz; Oldies were dedicated to Jeremy Paxman leaving Newsnight; and we eventually got an answer to yesterday's Homework question about the history of time. We almost understood it too!
Asparagus & Tomato-Bacon Stew
by Thomas Keller from Ad Hoc at Home (Artisan Books. Copyright © 2009)<?xml:namespace prefix = u9 />
<?xml:namespace prefix = o ns = "urn:schemas-microsoft-com:office:office" />
Serves 6
Prep time 1hr
Cooking time 1hr 15 mins
Ingredients
75g/3oz applewood-smoked slab or thick-sliced bacon, cut into 2.5cm/1in by 0.6cm/¼in lardons (Nigel says you can substitute smoked lardons)
3 tbsp coarsely chopped leeks (white & light green parts only)
2 tbsp coarsely chopped onion
1 tsp finely chopped garlic
Kosher salt & freshly ground black pepper (Nigel says any salt will work)
1 x 400g/14oz tin San Marzano whole tomatoes (or any decent tinned toms)
Canola oil (optional)
1.25kg/2½lb asparagus, trimmed & peeled
60ml/¼ cup/2fl oz plus 2 tbsp chicken stock
Extra virgin olive oil
Method
1. Pour 2 tbsp water into a medium saucepan & set over medium heat (the water will keep the bacon from crisping as the fat begins to render).  Add the bacon, reduce the heat to medium-low, & let the bacon render its fat for 30 mins. The bacon will color but not become completely crisp. Using a slotted spoon, transfer the bacon to paper towels to drain.
2. Pour off all but 1 to 2 tbsp fat from the pan, reserving the extra fat. Set the pan over medium heat, add the leeks, onion, & garlic to the fat, stir to coat, & season with salt & pepper. Cook for 5 to 7 minutes, until the vegetables are soft. Add the tomatoes, with their juice, bring to a simmer, & simmer for 45 mins.
3. Transfer half of the mixture to a food processor & puree, then stir the puree back into the remaining tomatoes in the pan, return to a simmer, & cook until thickened, about 15 mins. (The larger tomatoes will break down & the stew will have the texture of a thick tomato sauce.) Stir in the bacon & reduce the heat to low.
4. Heat a large frying pan that will hold half the asparagus in a single layer over medium-low heat. Pour a film of the reserved bacon fat or canola oil into the pan. Arrange half the asparagus in the pan, pour 3 tbsp of the stock over it, & sprinkle with salt. Cook until the asparagus is tender but not limp, 6 to 7 minutes. Season with additional salt to taste & arrange the asparagus on a platter. Repeat with the remaining asparagus.
5. Spoon the sauce in a band across the asparagus. Drizzle with olive oil. 
Nigel's Top Tips
If making the asparagus coins, use the remaining tips to make an asparagus with Le Gruyere cheese & a few herbs; thyme would be perfect.
John Chinn uses composted green waste to improve fertility in his fields & uses collected rainwater for summer irrigation.  He has also created grassed waterways to combat soil erosion & plants trees and hedges to create additional habitats for wildlife. Employs innovative growing techniques inspired by the strawberry industry to extend the traditional period of asparagus crops by several months.