Main content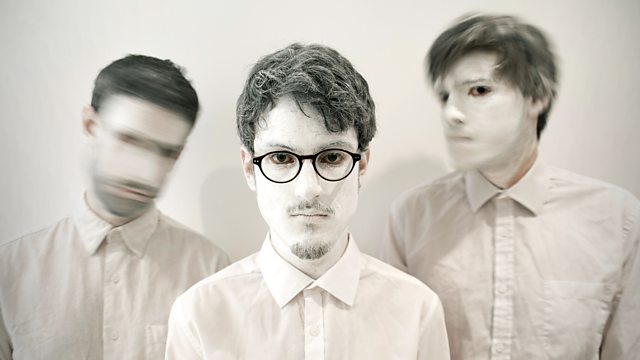 Elliot Galvin Trio
Jez Nelson presents pianist Elliot Galvin performing with his trio in a front-room gig in London. He is joined by Tom McCredie (bass) and Simon Roth (drums).
Rising star of the British jazz scene, pianist Elliot Galvin performs with his trio in an intimate front-room gig.
Emerging over the last year through the work of the Chaos Collective - and previously featured on Jazz on 3 with the Laura Jurd Quintet - the young keyboardist is fast becoming one of the most talked-about new faces. His debut album as leader, Dreamland, has already attracted critical attention and just weeks since its release the trio have been awarded the prestigious European Young Artists' Jazz Award for 2014. Playful experimentation lies at the heart of Galvin's music, where a love for complexity is balanced with equal good humour and quick-witted ingenuity. Amongst fiery improv and thoughtful melodicism, watch out for excursions on prepared piano and the addition of a tiny toy piano. Galvin is joined by bassist Tom McCredie and drummer Simon Roth for this performance at a private London venue, part of Pop-Up Circus's 'Kitchen Sink Series'.
Presenter: Jez Nelson
Producer: Miranda Hinkley.
Music Played
Elliot Galvin Trio in concert as part of Pop-Up Circus' 'Kitchen Sink Series' in London on 13 April 2014

John Fordham interviews Elliot Galvin

Elliot Galvin Trio in concert as part of Pop-Up Circus' 'Kitchen Sink Series' in London on 13 April 2014

Steve Beresford investigates pianists going beyond the keyboard

Pianist Magda Mayas explains her approach

Leon Michener introduces his electro-acoustic piano preparation

Dan Nicholls' custom made Kalimba-keyboard

Elliot Galvin Trio

In concert as part of Pop-Up Circus' 'Kitchen Sink Series' in London on 13 April 2014