Main content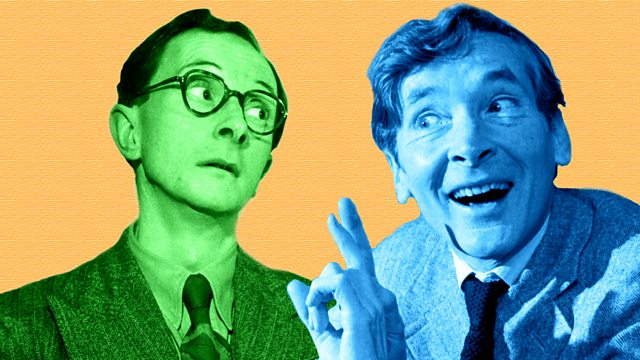 Martyn Hesford - Tittle Tattle
4 Extra Debut. It is 1964, and with the Carry On films at the height of their popularity, Kenneth Williams bumps into Charles Hawtrey in a London tea room. Starring Adam Godley.
Tittle Tattle by Martyn Hesford
It is 1964 and the 'Carry On' films are at the height of their popularity. Kenneth Williams is taking his mother Louie out for afternoon tea to celebrate her 60th birthday. He makes sure it is in a 'select' tea room - Derry and Toms. But who does he bump into? None other than fellow 'Carry On' actor Charles Hawtrey and his mother Alice. Charles is meeting a director about an upcoming film, but he is being very secretive as to who this mystery person is.
Director/Producer Gary Brown
Martyn Hesford is a hugely experienced scriptwriter and is best known for FANTABULOSA! (BBC 4) starring Michael Sheen which chronicles the life of Kenneth Williams. Martyn was nominated for a BAFTA for Best Single Drama for this film.
After starting his career as an actor, Martyn turned to screenwriting and penned a number of highly acclaimed BBC award winning single dramas such as A SMALL MOURNING, winner of Radio Times Drama Award, BRAZEN HUSSIES starring Julie Walters and A LITTLE BIT OF LIPPY starring Kenneth Cranham. As well as working on original pieces, Martyn has adapted several classic novels for TV. NICHOLAS NICKLEBY (ITV1), DR JEKYLL AND MR HYDE (Clerkenwell Films/Working Title/Universal Pictures) and THE OLD CURIOSITY SHOP (ITV1).
Credits
| Role | Contributor |
| --- | --- |
| Kenneth Williams | Adam Godley |
| Charles Hawtrey | David Charles |
| Louie Williams | Janine Duvitski |
| Alice Hawtrey | Marcia Warren |
| Waiter | Eddie Capli |
| Teddie | Hamilton Berstock |
| Gloria | Lisa Allen |
| Writer | Martyn Hesford |
| Director | Gary Brown |
| Producer | Gary Brown |