Main content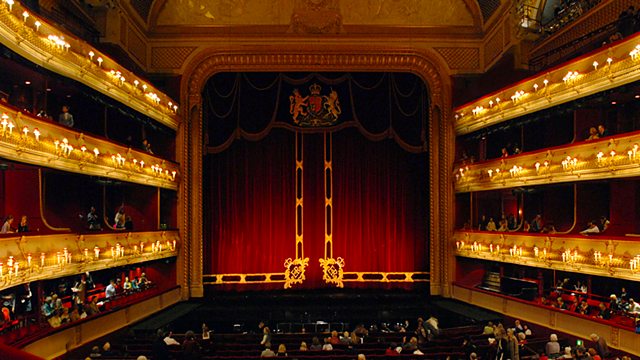 Gounod's Faust
Live from the Royal Opera House, Covent Garden, Donald Macleod presents a performance of Gounod's Faust, starring tenor Joseph Calleja as Faust, Bryn Terfel and Sonya Yoncheva.
Tonight's Opera on 3 is a performance of Gounod's Faust, once one of the most famous and most performed operas. Based on Goethe's dramatic poem, it's a tale of romance, temptation and tragedy, and the clash between religion and satanic powers. Faust, sung by the Maltese tenor Joseph Calleja, has become bored with life and its limitations, and makes a pact with the Devil, represented by Méphistophélès, baritone Bryn Terfel: the Devil promises that he will satisfy Faust's hedonistic requests in exchange for his soul. Gounod's Faust contains many musical highlights including the Soldiers' Chorus, and Marguerite's stunning Jewel Song - sung tonight by soprano Sonya Yoncheva. The Orchestra and Chorus of the Royal Opera House are conducted by Maurizio Benini, and tonight's live performance is presented by Donald Macleod.
Live from the Royal Opera House, Covent Garden
Faust ..... Joseph Calleja (Tenor)
Méphistophélès ..... Bryn Terfel (Baritone)
Marguerite ..... Sonya Yoncheva (Soprano)
Valentin ..... Simon Keenlyside (Baritone)
Wagner ..... Jihoon Kim (Bass Baritone)
Siébel ..... Renata Pokupic (Mezzo-soprano)
Martha Schwerlein ..... Diana Montague (Mezzo-soprano)
Royal Opera House Orchestra
Royal Opera House Chorus
Maurizio Benini (Conductor).
Synopsis
ACT I<?xml:namespace prefix = o ns = "urn:schemas-microsoft-com:office:office" />
Weary of life and the vain pursuit of knowledge, the aged Faust decides on suicide. He is stopped in his tracks by the light of dawn and voices singing God's praises. Faust bitterly renounces God and calls on Satan. Mephistopheles duly appears. He will satisfy Faust's hedonistic demands in return for the philosopher's soul. Hesitating at the last moment before signing the diabolic contract, Faust is finally swayed by a vision conjured up by Mephistopheles of the beautiful and innocent Marguerite: Faust must have her.
ACT II
The town is celebrating. In their midst, Valentin is preoccupied with thoughts of leaving to fight in the war. He asks his friends to look after his sister Marguerite while he is away; among them is Siebel, who is in love with her. They are interrupted by Mephistopheles, who sings a blasphemous song and makes innuendos about Marguerite. This is too much for Valentin who is roused to defend his sister and attack Mephistopheles, but his sword breaks mid-air and everyone hastily withdraws. Mephistopheles is joined by Faust; when Marguerite appears she rejects Faust's attentions.
ACT III
Siebel leaves a bouquet of flowers for Marguerite. Next, Faust extols the virtues of Marguerite's home while Mephistopheles also finds something to leave her: a box full of jewels. Marguerite appears, lost in thought, but is overcome with excitement as she discovers the jewel box and tries on its contents. Marthe Schwertlein, Marguerite's neighbour, thinks that the jewels must be from an admirer. When both women are joined by Mephistopheles and Faust, the former distracts Marthe so that Faust can seduce Marguerite.
ACT III
Five months have passed. Marguerite has been deserted by Faust, but is carrying his child. In church, her prayers are repeatedly interrupted by demons. She faints as Mephistopheles's final curse denies her the hope of salvation. Soldiers return from the war, Valentin among them. He asks Siébel to tell him how his sister is, but Siébel's evasions prompt him angrily to rush into Marguerite's house to find out for himself. Méphistophélès and Faust arrive, and the Devil satirically serenades Marguerite. Valentin emerges from the house demanding to know who is responsible for his sister's shame. In the ensuing duel, Faust mortally wounds Valentin, who with his final words denies Marguerite any Christian compassion and damns her for eternity.
ACT V
It is Walpurgis Night and a diabolic ballet ensues. Faust is subjected to visions, the last of which is of Marguerite in prison for the murder of their child and awaiting execution. Faust wants to go to her, and Méphistophélès obliges. Together in the cell, Faust and Marguerite remember their shared moments of love and Faust urges her to flee with him, but she resists, calling for divine protection. Marguerite's supplication is answered: her soul ascends to heaven.