Main content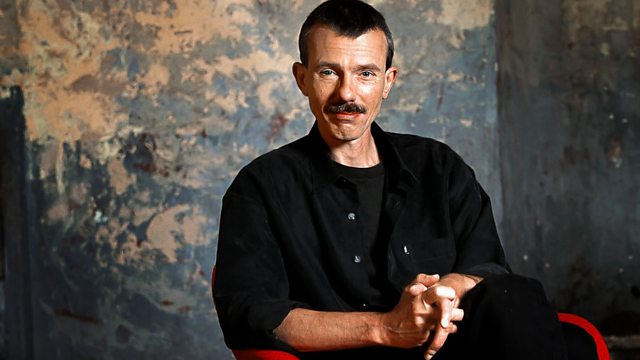 22/04/2014
Jonathan Swain's selection includes pianist Mitsuko Uchida performing with the Bavarian Radio Symphony Orchestra under Mariss Jansons at the 2013 BBC Proms.
BBC Proms 2013. Mitsuko Uchida with the Bavarian Radio Symphony Orchestra, conducted by Mariss Jansons. with Jonathan Swain.
12:31 AM
Beethoven, Ludwig van [1770 -1827]
Concerto no. 4 in G major Op.58 for piano and orchestra
Mitsuko Uchida (piano), Bavarian Radio Symphony Orchestra, Mariss Jansons (conductor)
1:06 AM
Berlioz, Hector [1803-1869]
Symphonie fantastique Op.14
Bavarian Radio Symphony Orchestra, Mariss Jansons (conductor)
1:57 AM
Ligeti, Gyorgy [1923-2006]
Romanian Concerto for orchestra
Bavarian Radio Symphony Orchestra, Mariss Jansons (conductor)
2:04 AM
Rachmaninov, Sergey [1873-1943]
6 Duets for piano 4 hands (Op.11)
Lestari Scholtes (piano), Gwylim Janssens (piano)
2:31 AM
Nielsen, Carl [1865-1931]
Quintet for wind (Op.43)
Cinque Venti
2:55 AM
Brahms, Johannes [1833-1897]
7 Fantasies Op.116 for piano
Libor Novácek (piano)
3:18 AM
Graupner, Christoph [(1683-1760)]
Flute Concerto in F, GWV 323
Bolette Roed (recorder), Arte dei Suonatori (ensemble)
3:28 AM
Bach, Johann Ernst (1722-1777)
Meine Seele erhebt den Herrn (motet)
Martina Lins (soprano), Silke Weisheit (alto), Martin Schmitz (tenor), Hans-Georg Wimmer (bass), Rheinische Kantorei, Das Kleine Konzert, Hermann Max (conductor)
3:41 AM
Schubert, Franz (1797-1828); transcribed by Liszt, Franz [1811-1886]
Aus dem wasser zu singen (D.744) arr. Liszt for piano
Anastasia Vorotnaya (piano)
3:46 AM
Moniuszko, Stanislaw (1819-1872)
Introduction to Act III & Dances of the Highlanders from Halka (original version)
Polish Radio Symphony Orchestra, Lukasz Borowicz (conductor)
3:53 AM
Bach, Johann Sebastian (1685-1750)
Concerto in the Italian style for keyboard (BWV.971) in F major
Christian Ihle Hadland (piano)
4:06 AM
Diepenbrock, Alphons (1862-1921) [text: Baudelaire, Charles (1821-1867)]
L'Invitation au voyage
Christa Pfeiler (mezzo-soprano), Rudolf Jansen (piano)
4:12 AM
Buxtehude, Dietrich (1637-1707)
Benedicam Dominum in omni tempore (BuxWV 113)
Soloists with the Amsterdam Baroque Orchestra and Chorus, Ton Koopman (conductor)
4:25 AM
Holborne, Anthony (1560-1602)
Muy linda, Pavan, Gallliard - from Pavans, Galliards, Almains, and Other Short Aeirs, Both Graue and Light (1599)
The Canadian Brass
4:31 AM
Rossini, Gioachino (1792-1868)
Introduction and theme and variations
László Horváth (clarinet), The Hungarian Radio Orchestra, Géza Oberfrank (conductor)
4:42 AM
Chopin, Fryderyk (1810-1849)
Variations on 'La ci darem la mano' (Op.2) in B flat major
Nelson Goerner (1849 Erard grand piano) Orchestra of the Eighteenth Century, Frans Brüggen (conductor)
5:00 AM
Pettersson, (Gustav) Allan (1911-1980)
Two Elegies (1934) and Romanza (1942) - for violin & piano
Isabelle van Keulen (violin), Enrico Pace (piano)
5:06 AM
Kraus, Joseph Martin (1756-1792)
Quatre Intermèdes et Divertissements for Molière's comedy 'Amphitryon' (Paris-Stockholm, 1785-87) - Intermède IV
Chantal Santon (soprano - La Nuit), Georg Poplutz (tenor - Hérault), Bonn Chamber Chorus, L'Arte del mondo, Werner Ehrhardt (conductor)
5:18 AM
Byrd, William (c.1543-1623)
Browning à 5
The Rose Consort of Viols
5:22 AM
Britten, Benjamin (1913-1976)
Choral Dances from Gloriana - Coronation opera for Elizabeth II (Op.53) (1953)
The King's Singers
5:28 AM
Mozart, Wolfgang Amadeus (1756-1791)
Symphony No.33 in B flat major (K.319) ]
Swedish Radio Symphony Orchestra, Manfred Honeck (conductor)
5:49 AM
Vivaldi, Antonio [1678-1741]
Concerto in D minor RV 129 'Concerto madrigalesco'
Arte dei Suonatori (ensemble)
5:54 AM
Bach, Johann Sebastian (1685-1750)
Singet dem Herrn ein neues Lied - motet (BWV.225)
Danish National Radio Chorus, Stefan Parkman (conductor)
6:07 AM
Frumerie, Gunnar de (1908-1987)
Pastoral Suite (Op.13b)
Kathleen Rudolph (flute), CBC Vancouver Orchestra, Mario Bernardi (conductor)
6:21 AM
Handel, Georg Frideric (1685-1759)
Sonata (Op.1 No.5) in F major (HWV.363a) vers. oboe & bc
Louise Pellerin (oboe), Dom André Laberge (organ).