Main content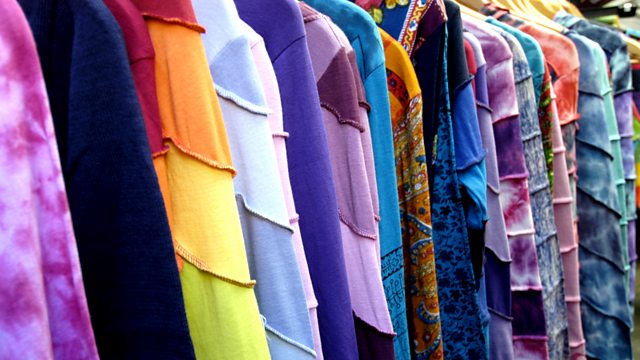 Celia Birtwell; Grayson and Philippa Perry; Breton stripes
Offering a female perspective on the world. Jenni Murray looks at our changing relationship with clothes and fashion with guests including Celia Birtwell and Melanie Rickey.
Jenni Murray talks to Celia Birtwell about her passion for print, textiles and her career in fashion.
We discuss the difference between clothes and fashion; why is it that we form an emotional attachment to some clothes and throw others out?
Grayson and Philippa Perry talk about the wardrobe they share with Clare, Grayson's alter ego.
Fashion historian Amber Butchart and Melanie Rickey examine the enduring appeal of the Breton Stripe.
And we ask why do so many of us adopt a kind of uniform, wearing the same colours and styles, day in and day out?
Presenter: Jenni Murray
Producer: Laura Northedge.
Last on
Clothing For Keeps
In our climate of "fast fashion" we can update our wardrobes for the same price as buying a sandwich, but as we know, the ethical price is high. So how can we break the cycle of buying cheap clothing and sticking it in the back of our wardrobe when fashion moves on? Dr Kate Fletcher claims the only sensible response is to find a way to separate the ideas of clothing and fashion, and fall back in love with our own wardrobes. She has started a movement called the "craft of use" which focusses on caring for and maintaining our favourite items. So how can we feel good about our clothes without spending money? And why do we treasure some clothes and throw others away? Jenni talks to Kate and to fashion editor Melanie Rickey.
Are You Wearing A Uniform?
Do you find yourself relying on the same colours and styles of clothes time and time again? In the rush to leave the house in the morning, is it easier to sling on something black than to think about combining different colours or doing something different with your make-up? Are you wearing a uniform?  The fashion designer Celia Birtwell is known for her colourful prints, but admits that she rarely deviates from wardrobe staples in grey, cream, and black. She joins Jenni, who admits to mostly wearing black, and Sally Feldman, who is Senior Fellow in Creative Industries at the University of Westminster, and loves to mix up colours and try new things.
When Did The Breton Stripe Become A Wardrobe Staple?
As the Barbican launch the first ever exhibition devoted to the work of the fashion designer Jean Paul Gaultier, we look at his enduring motif – the Breton stripe – and ask how this piece of French sailor kit ended up as a wardrobe staple for everyone from the Duchess of Cambridge to Kate Moss.  Fashion historian Amber Butchart and fashion editor Melanie Rickey discuss the timeless appeal of the nautical stripe.
In Our Wardrobe: Grayson And Philippa Perry
We've often looked into the wardrobes of well- known people to see what's hiding there – and now, it's couples. How do they accommodate each other's fashion sense? The artist Grayson Perry and his wife Philippa have a slightly more complex approach than most because they have to share with a third person – Clare - who's Grayson's alter ego. She was thrust into the public eye when Grayson won the Turner Prize in 2003.  Grayson and Philippa met 26 years ago at a creative writing course and both say his cross-dressing has never been an issue. They told Henrietta Harrison that their dress sense is more adventurous now compared with the eighties, when they used to share frumpy Jaeger suits.
Celia Birtwell
Celia Birtwell joins Jenni to talk about her life as a leading textile designer in the late 60s and early 70s, in partnership with her then husband, the iconic fashion designer Ossie Clark, up to designing special ranges for high street retailers today. She shares her views on the impact of print, fabric, and colour on how we dress, and how now in her seventies, she sees a need for more stylish yet practical clothes for the modern older woman.
Credits
| Role | Contributor |
| --- | --- |
| Presenter | Jenni Murray |
| Interviewed Guest | Celia Birtwell |
| Interviewed Guest | Melanie Rickey |
| Interviewed Guest | Kate Fletcher |
| Interviewed Guest | Philippa Perry |
| Interviewed Guest | Grayson Perry |
| Interviewed Guest | Amber Jane Butchart |
| Interviewed Guest | Sally Feldman |
| Producer | Laura Northedge |
Broadcast

Podcast
Women's voices and women's lives - topical conversations to inform, challenge and inspire.