Main content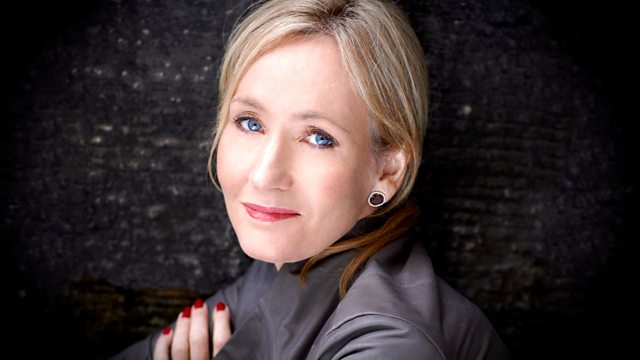 J.K. Rowling
J.K. Rowling looks at why Scotland has the highest number of MS sufferers in the world, explains her passion for Scottish rugby and asks, what is the power and myth of the shoe?
J.K. Rowling is our first Guest Editor.
Multiple Sclerosis affects roughly 100,000 people in the UK and three times as many women as men will develop the disease. The incidence of MS is higher in Scotland than in any other country in the world. J.K. Rowling's mum Anne died of an aggressive form of the disease nearly 15 years ago and in her memory she has helped to fund the Anne Rowling Regenerative Neurology Clinic, part of the University of Edinburgh, which is pioneering research into neural regeneration and patient care.
Her passion for Scottish Rugby is something that many fans may not know. We look at the current state of Scottish Women's Rugby, what is being done to make the sport more attractive to women and what needs to be done to help the sport grow more.
The UN estimates that up to eight million children around the world live in institutions. These are often called orphanages or children's homes, although at least four out of five of those children in institutional care have living parents. What's inspired J.K. Rowling to get involved with helping children reunite with their families?
Plus shoes. They hurt our feet and our bank balance, and yet to so many of us they are objects of desire. Jo is no exception, she's often wondered why women are so fond of this particular item of clothing. From high heels to statement brogues, we explore the complex and fascinating world of women and their relationship to their footwear and ask, what is the power and myth of the shoe?
Sue Lawley's castaway is the writer and creator of Harry Potter J.K. Rowling.

J.K. Rowling talks to Mark Lawson as she publishes her first novel aimed at adults.
Chapters
Multiple Sclerosis, Women and Scotland

J.K Rowling discusses the impact of Multiple Sclerosis on her family and in Scotland.

Duration: 15:29

Scottish Women's Rugby

Scottish player Heather Lockhart discusses how women can grow the game of rugby

Duration: 05:41

Orphanages in Moldova

J.K Rowling looks at why so many children end up living in care institutions.

Duration: 13:54

What is the Power and Myth of the Shoe?

Fashion historian Caroline Cox and Georgina Goodman investigate the appeal of shoes.

Duration: 06:39

Multiple Sclerosis, Women and Scotland

J.K. Rowling's mother, Anne, was diagnosed with multiple sclerosis (MS) when she was 35.  She had an aggressive form of the disease and died in 1990, aged 45.  In memory of her mother J.K. Rowing has helped to fund the Anne Rowling Regenerative Neurology Clinic, part of the University of Edinburgh, which is pioneering research into neural regeneration and patient care.  Multiple Sclerosis affects roughly 100,000 people in the UK and three times as many women as men will develop the disease.  The incidence of MS is higher in Scotland than in any other country in the world. 

 

Jane Garvey speaks to BBC journalist Elizabeth Quigley, who was diagnosed with MS in 2000 and to Professor Charles ffrench-Constant of the Centre for Regenerative Medicine, University of Edinburgh, to discuss the new research into the disease and why Scottish women have the greatest risk of developing MS. 

 

Scottish Women's Rugby

Scottish Rugby is not something that many J.K Rowling fans may know she's fanatical about, but it's 20 years ago this month that Scotland's hosted the Women's Rugby World Cup and J.K. is a fan. Scottish Women's Player Heather Lockhart joins Jane to discuss the current state of Scottish Women's Rugby, what is being done to make the sport more attractive to women and how to create more of an impact.

Orphanages in Moldova

The UN estimates that up to 8 million children around the world live in institutions.  These are often called orphanages or children's homes, although at least four out of five of those children in institutional care have living parents.  We go to Moldova, the poorest country in Europe to investigate why so many children end up living under the care of the state.  What is life like inside an institution?  What impact do institutions have a child's development, and what are the alternatives to housing children this way?  Jane talks to the author J.K. Rowling about why she set up a charity, Lumos to end the institutionalisation of children.  And, Valentina Buliga, Minister of Labour, Social Protection and Family in Moldova explains the government's standpoint.

What is the Power and Myth of the Shoe?

Shoes. They hurt our feet and our bank balance, and yet to so many of us they are objects of desire. J.K.Rowling is no exception, but she's often wondered why women are so fond of this particular item of clothing. 

 

Fashion historian Caroline Cox and shoe designer Georgina Goodman join Jane to investigate what makes shoes so appealing to women. From high heels to statement brogues, we explore the complex and fascinating world of women and their relationship to their footwear.

Credits

| Role | Contributor |
| --- | --- |
| Presenter | Jane Garvey |
| Editor | JK Rowling |
| Interviewed Guest | Heather Lockheart |
| Interviewed Guest | Caroline Cox |
| Interviewed Guest | Georgina Goodman |
| Interviewed Guest | Charles ffrench-Constant |
| Producer | Kat Wong |

Featured in...

A celebration of Scottish writers

A selection of programmes featuring J.K. Rowling