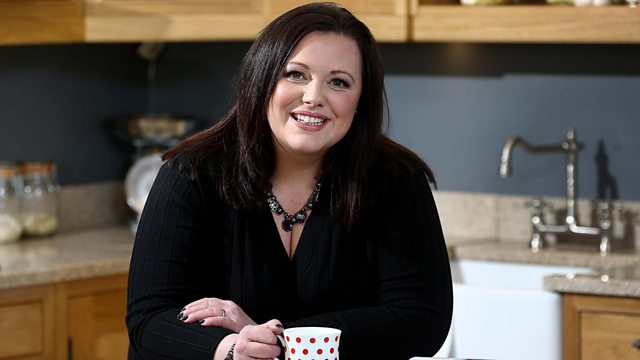 16/04/2014
Join Lynette Fay for a show packed with classic tracks, current hits and features on films, books and food.
Last on
Cooking With Jenny Bristow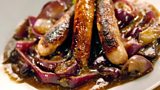 Pork Sausages with a Mustard and Red Onion Gravy served with Champ
Sausages make a delicious economical family meal if  you add a little flavor and texture with a tasty mustard and onion gravy, great with Champ.
Serves 4
Ingredients
450g/1lb pork sausages – low fat
1 tsp olive oil
Knob of butter
1 red onion – sliced
25g/1oz soft brown sugar
1 dsp white wine vinegar
2 dsp Worcester sauce
125ml/4floz vegetable stock
1 tsp wholegrain mustard
Method
To cook the sausages.  Place in a hot pan with the olive oil and butter.  Toss until golden and lightly cooked.
Add the sliced onion to the pan and cook until soft.  Next, add the brown suar and stir well to prevent it sticking.
Now, in with the vinegar, Worcester sauce and vegetable stock.  Continue cooking for 15-20 minutes until the sausages are well cooked and the onion gravy has reduced and concentrated in flavour.
Finally, add the mustard and heat through.
Lemon and Ginger Bread and Butter Pudding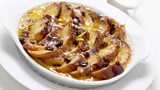 This old-fashioned pudding is still as popular as ever and has the uncanny knack of reinventing itself in modern guises. This particular version has a particular zing and freshness that comes from the lemon.
Serves 6-8
Ingredients
1 crusty French loaf
1 dsp butter
1 dsp lemon curd
Zest of 1 lemon
1" root ginger – finely chopped
25g/1oz sultanas (optional)
1 dsp lemon juice (optional)
Egg Custard
570ml/1 pt low fat milk
25g/1oz caster sugar
Few drops vanilla essence
4-5 egg yolks – lightly beaten
Demerara sugar for dusting
125ml/¼pt yoghurt or crème fraiche
Method
Grease an ovenproof dish (approximately 1.4 litres/2½ pt). Cut the bread into even slices and spread one side with butter and then with lemon curd.  Arrange the bread in the dish, butter side up, and sprinkle with the lemon zest and ginger.  If using sultanas, first place them in a small bowl with the lemon juice and leave for a few minutes to absorb the liquid.  Then sprinkle them over the bread.
Heat the milk in a pan and add the sugar, vanilla essence and egg yolks.  Whisk continually over a low heat until the mixture shows signs of thickening, then remove from heat.  Do not boil as the custard will curdle.
Sieve the custard into a jug and pour it over the bread, leaving it to soak for 10-15 minutes until the bread softens and absorbs the mixture.  Place the pudding in a preheated oven @ 200˚C/Gas Mark 6 for 20-25 minutes or in the roasting oven of similar temperature, until it sets and is puffed up and golden.
Dust with Demerara sugar and serve warm with yoghurt or crème fraiche.