Main content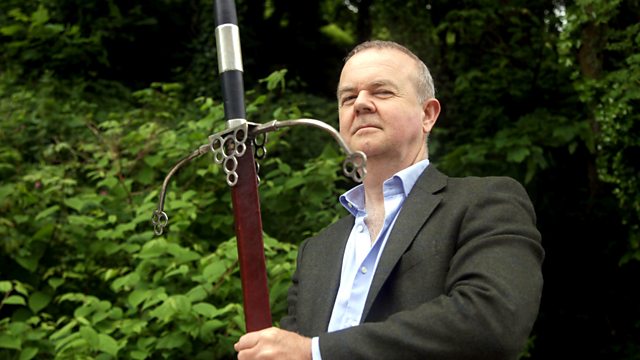 Documentary series in which Ian Hislop explores the British trait of obsession with the past. Here he examines King Arthur and King Alfred.
Ian Hislop explores perhaps the most distinctive, peculiar and deep-seated trait of the British, our obsession with the past. Over three films he reveals how and why, throughout our history, we have continually plundered 'the olden days' to make sense of and shape the present.
This opening episode reveals how, ever since 1066, we have harked back to the Dark Ages. In particular, Ian turns his gaze on two of our most inspiring kings - King Arthur and King Alfred - one quite possibly entirely fictional, the other entirely historical, and yet each the stuff of legend.
On the trail of legendary King Arthur, Ian visits Tintagel Castle, the fantastic Round Table at Winchester and even the sacred 'burial place' of Arthur and Guinevere at Glastonbury Abbey. He finds out how this storybook king has changed, from wild Celtic warlord to chivalric hero; from piously questing king to national totem of Victorian Wales. Ian also discovers why the king of Camelot inspired Henry VIII as much as today's New Age druids.
King Alfred repelled the Vikings, reorganised the army and was an educational pioneer... not, Ian notes wryly, as exciting as pulling a sword from a stone, but rather more useful. And yet, peeling away the evidence, there is more fiction involved in this 'historic' king than meets the eye - manipulated to suit the diverse purposes of tricksy mediaeval lawyers, a Tudor archbishop for whom we have the cake-burning story to thank, and even a Georgian prince of Wales, he gradually becomes blessed with almost every virtue. By Victorian times, Alfred the Great, has evolved into 'the most perfect man in history', one-man embodiment of everything that is great about Great Britain.
Winston Churchill summoned up the spirit of Alfred to inspire the nation in the dark days of 1940. Meanwhile Arthur reigns supreme today in movies, TV series and even online gaming. Ian even gets to meet Arthur Uther Pendragon, self-declared reincarnation of King Arthur himself, to find out what is on Arthur's mind in the 21st century.
The multiple historical makeovers of these Dark Age kings provide a fascinating insight into the evolution of our sense of national identity. Thoroughly forensic, always curious and witty, this is an exploration of high and low culture over 1,000 years. As ever with Ian Hislop's cultural histories, it focuses on the 'story' bit of history and holds up a most revealing mirror to ourselves.
More episodes
Previous
You are at the first episode
Credits
| Role | Contributor |
| --- | --- |
| Presenter | Ian Hislop |
| Executive Producer | Archie Baron |
| Producer | Claire Lewis |
Featured in...
The most compelling stories from world history on BBC Four.

Explore the rich lives of some of history's most powerful Royals.