Main content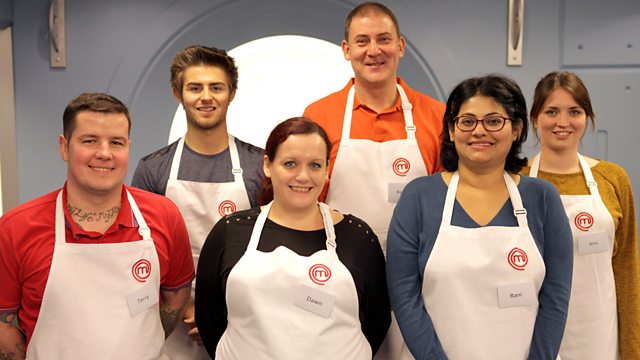 Cookery competition with John Torode and Gregg Wallace. As the third week of heats begins, six more amateur cooks prepare special dishes in the hopes of impressing the judges.
As the third week of heats begins, six more amateur cooks try to prove to judges John Torode and Gregg Wallace that they have the potential to be the tenth MasterChef champion. Firstly, the contestants are asked to cook their calling card, a practiced dish that represents who they are as a cook and showcases their talent. They have just one hour to dazzle the judges with one plate of food that shows just what they can do.
They then face the infamous invention test, choosing between two sealed boxes of ingredients - one sweet and one savoury. Chef John Torode takes on this challenge himself, showing the viewers at home just what is possible with the few ingredients. The sweet ingredients are apples, chestnuts, cloves, sweet wine, amaretto, cinnamon sticks, and brioche, while the savoury box contains duck breast, mussels, rainbow chard, beetroot, spring onion, plums, coriander, thyme, coconut milk, puy lentils and goat's cheese.
The amateurs have just one hour to cook a dish good enough to keep them in the competition. The stakes are high because, after this test, two of them will go home.
The four remaining cooks face one more challenge to obtain a place in the quarter-final. Replicating the conditions of service, they have to cook an impressive menu for some very special guests.
In this episode the second MasterChef champion, Peter Bayless, joins 2012 finalist Andrew Kojima and 2011 semi-finalist Jackie Kearney as they give their verdict. There is also the chance to find out what triumphs and challenges they have faced since their own MasterChef journeys.
After the four contestants have cooked, John and Gregg will decide which two will take the next step in the competition and go through to the quarter-final.
In a competition where only the food matters, these amateurs will need to pull out all the stops to survive, taking their first step towards being crowned MasterChef Champion 2014.
Credits
| Role | Contributor |
| --- | --- |
| Judge | John Torode |
| Judge | Gregg Wallace |
| Participant | Peter Bayless |
| Participant | Andrew Kojima |
| Participant | Jackie Kearney |
| Director | David Crerar |
| Series Producer | Katie Attwood |