Main content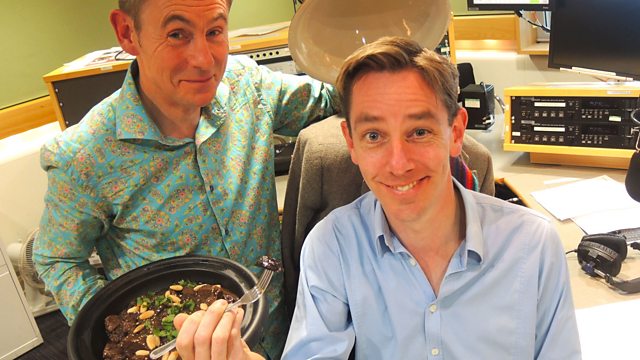 Ryan Tubridy sits in, Nigel cooks Beef Tagine with Prunes
It's Foodie Thursday with Resident Chef Nigel Barden! He'll be cooking up something delicious ahead of the Easter Holiday.
Rebecca's on the money and Will Perry has all the sport.
Beef Tagine with Prunes
by Sam & Sam Clark from Casa Moro (Ebury)<?xml:namespace prefix = u9 />
<?xml:namespace prefix = o ns = "urn:schemas-microsoft-com:office:office" />
Of all the many Moroccan tagines, this one is a classic, & with good reason.  Last time we ate it in Morocco, it was served with warm rice vermicelli instead of bread.
Serves 4
Prep time: 15 mins
Cooking time: 2hrs approx
Ingredients
40g unsalted butter
2 tbsp olive oil
1 tsp ground ginger
2 tsp ground cinnamon
3 tbsp finely grated onion
4 tbsp roughly chopped fresh coriander
1.2kg stewing beef, cut into 3cm cubes, trimmed of excess fat
40 threads saffron, infused in 2 tbsp boiling water
400g stoned prunes, soaked in cold water
2 tbsp runny honey
sea salt & black pepper
To serve
1 tbsp  sesame seeds, lightly roasted
180g whole blanched almonds, fried in olive oil until just golden
4 tbsp fresh coriander leaves (optional)
Method
1.    Put the butter & olive oil in a large saucepan over a medium to high heat, & when the butter starts to foam, add the ginger, ½ tsp black pepper, the cinnamon, onion & coriander.  
2.    Fry for 30 seconds, then add the beef & stir well for a minute or two so it's coated in the spice mixture.
3.    Cover the meat with water & the saffron infusion, bring to the boil, then lower the heat to a gentle simmer.
4.    Add half the prunes (drained) & cook for 1½ hrs, until the meat just begins to become tender & juicy.
5.    Add the remaining prunes along with the honey & some salt & pepper.
6.    Simmer for a further 30 mins, or until the meat is tender & the liquid has thickened & reduced.
7.    Serve with sesame seeds, almonds & coriander leaves, sprinkled over the top.