Main content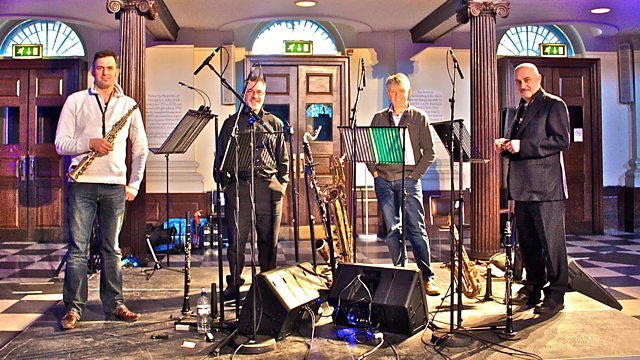 The Delta Saxophone Quartet at 30
Sara Mohr-Pietsch presents the Delta Saxophone Quartet in Part, Turnage, Riley and Reith. Plus a visit to the studio of composer Kaffe Matthews and music by Richard Skelton.
Sara Mohr-Pietsch presents music from the Delta Saxophone Quartet, taken from a concert recorded recently at St John's Smith Square in London. The quartet celebrate their 30th anniversary with music by Jimmy Giuffre, Arvo Part, Steve Reich, Terry Riley and Mark-Anthony Turnage.
In the second episode of Hear and Now's Composers' Rooms series, exploring the relationship between workspace and composition, Sara Mohr-Pietsch plays with sharks in the East London studio of electronic composer Kaffe Matthews.
Plus music by Richard Skelton, recorded at the Arts Foundation's recent New Experimentalists event at the Queen Elizabeth Hall.
Arvo Part: Summa
Mark-Anthony Turnage: Run Riot (London premiere)
Terry Riley: Pipes of Medb/Medb's blues (from Chanting the Light of Foresight)
Delta Sax in Free Fall (improvisations inspired by the Jimmy Giuffre Trio release of 1962)
Steve Reich: New York Counterpoint (arr. Susan Fancher)
The Delta Saxophone Quartet:
Christian Forshaw - soprano sax /clarinet
Pete Whyman - alto sax /soprano sax /clarinet
Tim Holmes - tenor sax/clarinet
Chris Caldwell - baritone sax/bass clarinet.
Stockhausen's Gruppen – What's the Big Deal?