Main content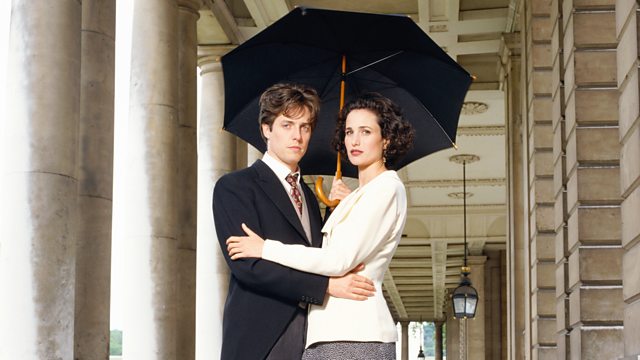 Four Weddings and a Funeral
Sue MacGregor brings together the acting and production talent behind one of the most successful British films ever made, Four Weddings and a Funeral.
In spite of its largely unknown cast, a promiscuous leading female character, a tragic death and a tiny budget, Four Weddings and a Funeral is still one of the most successful British films ever made.
It's 20 years since it opened in Britain - making household names of its stars, and taking an estimated $250 million worldwide.
The project was on the back burner for years as the determined and faithful production team tried desperately to raise enough money to make it work. The script went through more than 17 re-writes and dozens of actors were auditioned and rejected until exactly the right people were found to play the leading roles.
During filming, actors were collected one-by-one across London to save money on individual cars. Aristocrats (who owned their own morning suits) were hired as extras for the wedding scenes and US movie star Andie MacDowell was convinced into accepting a lowly fee, all to ensure that the film came in on budget.
Even after filming was complete, in just six weeks, both the film's leading man Hugh Grant and director Mike Newell believed it would flop. No-one anticipated that it would in fact be a box office smash in the US, and around the globe, and win five Baftas. It also succeeded in catapulting the poetry of W.H. Auden to the top of the best-sellers list.
Twenty years on, Mike Newell, writer Richard Curtis, producer Duncan Kenworthy and actors Kristin Scott Thomas and James Fleet are reunited to relive a landmark experience for them all.
Producer: Karen Pirie
Series Producer: David Prest
A Whistledown production for BBC Radio 4.